With the nation-wide Ugandan presidential elections coming up next month, there is a great amount of excitement surrounding everything to do with politics. Everyone (including myself) has been questioning who will be the next president of Uganda. This past week, for the very first time ever, a debate between the presidential candidates was live-streamed on national television. Never before had so many Ugandans witnessed the same electoral debate. Since then everyone has been boldly giving their opinion on each presidential candidate. Even the streets and road traffic have become louder and more chaotic than usual. Many times a day, parades of people, advocating for a certain leader will drive or walk down main-street, shouting while handing out posters and playing loud music. All I can think about now is…'if this is how crazy it is in January, what will it be like in February when the elections are actually happening!?'
Last week, the nurses and I had the honour of helping a young boy named, Livingstone, begin his long awaited surgery process. Livingstone has been dealing with a prolapsed colostomy for many years. At 12 years of age, he has never known what it is like to live without severe medical complications. 'Livy' was born with an imperforated anus. When he was a baby he was given a colostomy surgery in order to survive. This surgery exposed his colon in order that he would be able to pass feces into a colostomy bag attached onto the side of his abdomen. Livingstone's mother was informed that her son would need to return to the hospital for a second surgery to correct the defect, but the
family did not have enough funds to pay for the medical expenses that his condition required. On top of this Livingstone has many urinary tract complications, so he is forced to wear a Pull-Up diaper every day. To make matters even worse, he was also born without his right eye, causing difficulties interacting with other children in a social setting.  As you can already tell, Livingstone's life has been one of constant suffering.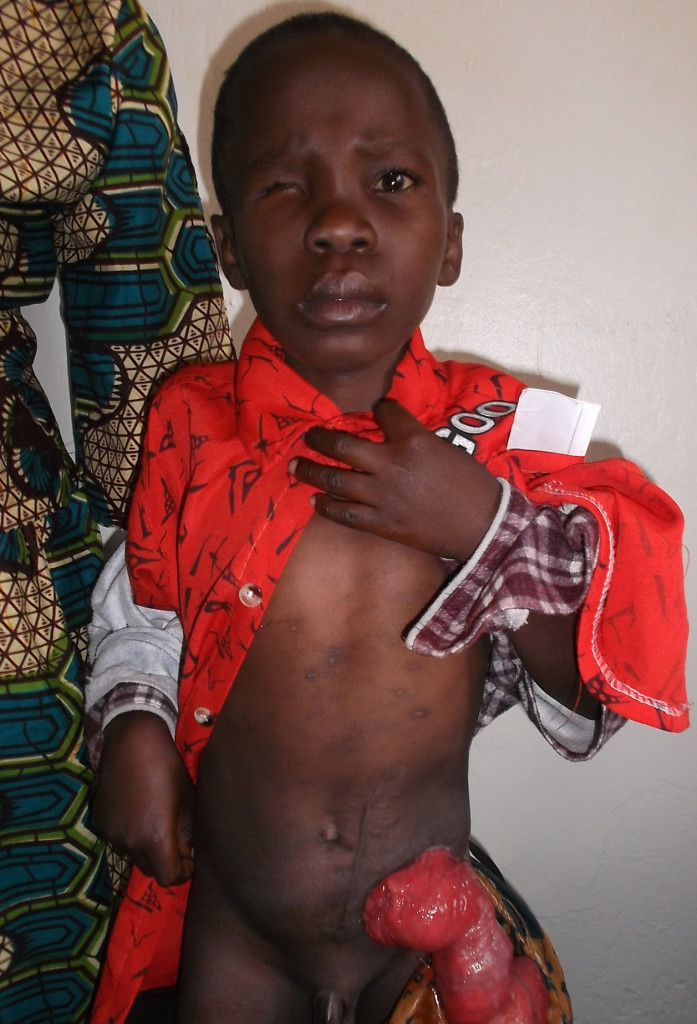 The social effects of these health complications have effected every part of his life. Even though he is 12 years old, Livy looks like he is only six or seven. His medical problems and lack of proper nutrition has stunted his growth. He has never been able to attend school because he has required constant one-on-one attention from an adult and he is ridiculed by other kids for smelling and having such a deformity and for missing his eye.  He lives a lonely life, unable to make many friends. It wasn't until we were sitting in the children's ward at the hospital that I realized the severity of the discrimination that he lives with everyday. As the other children would walk past us, many would slow down and stare at his missing eye — some looked confused, others afraid. Upon each awkward encounter, Livingstone would sit quietly, seemingly unfazed by the attention.  I realized that he has become so used to this kind of glaring that he didn't even think twice about what was going on or why people were giving him strange looks. What I really wanted to do is yell at the mothers to gain control of her gawking child. Fortunately, I was able to hold myself together and distract Livy's attention.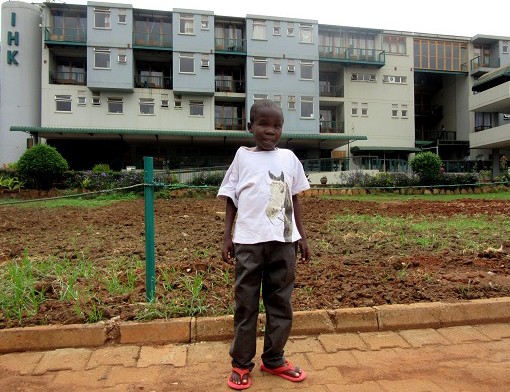 You would think that because his life is filled with such hardship that this young boy would have developed a lifeless personality or one gripped by anger toward his situation. After hearing his story and reading about his various medial concerns I expected him to present as a very sad boy. I had heard from our nurses that Livingstone had been very timid the first time that they met him, so I was expecting him to be closed-off. Little did I know that just two days later, I would be listening to his sweet, high-pitched voice sing praise songs all the way to the hospital!
My first encounter with Livingstone, was the first time we drove him to Kampala (Uganda's capital) for his preoperative review. On that day, he was one of two children we were driving to Kampala for an appointment. Livingstone and his mother sat in the back seat while I sat in the middle next to the other child, so my interaction with him that day was limited. After we had reached International Hospital Kampala (IHK) we had to wait for about an hour and a half before we could speak to the doctor who would be in charge of performing Livingston's surgery. While the doctor was assessing his condition, I noticed that Livingstone seemed quite calm. Sadly, Livingstone has been dealing with people assessing and discussing his medical situation all his life.  After the doctor had interpreted Livingstone's x-ray and studied his abdominal region, he concluded that Livingstone would be able to have his operation that same week. He told us that ideally, he would be able to correct the anus and attach the intestine to the anus during the same surgery, but given Livingstone's poor health it is unlikely they could do both procedures in one operation. We agreed to have Livingstone go ahead with the procedure the following Thursday.
The day before he was scheduled for his operation, we drove Livingstone and his mother back to IHK. This time, Livy was more talkative than ever. We laughed, sang, talked and played silly games the entire way to the hospital. I remember at one particular moment where we were trying to think of songs that we both knew how to sing. Oddly enough, he started singing Shakira's "Waka Waka, It's time for Africa" hit song. The two of us must have sang that song in unison five times over before we got bored of hearing the sound of our own voices!
Finally, after countess praise songs and one too many 'waka, wakas,' we reached the main hospital. Unsurprisingly, we had to wait around for almost three hours before we even got started on the admission process.  One might expect some delays but not that we'd be waiting for hours while the nurses casually looked around for his lost chart! For some odd reason, Livingstone's file went missing from the children's ward.  In the end they ended up having to create a new medical record booklet for him. Throughout the entire (oddly not at all frantic) search process, Livingstone sat calm and collected, patiently waiting for what was to come next all the while giggling and chattering to his mother, unfazed by the busy hospital scene around him.
After another hour of waiting, we were brought to the second level of the hospital. We walked into a large room, the walls lined with beds, each surrounded by a thin curtain to maintain the patient's privacy. On either side of the room there were small washrooms, each containing one sink, a toilet and a shower. The first thing that Livingstone and his mother did was take a shower. Our nurse, Olivia, and I sat outside the washroom and waited for the two of them to finish washing. After waiting for them for what seemed like quite a while, I turned to Olivia and said…"Wow, they have been in the shower for a long time! " Olivia looked at me and said "Emma, they are probably still trying to figure out how to use the shower properly, this is their first time bathing like this." I sat patiently after that, slightly ashamed of my ignorance.
When Livingstone and his mother had finally dried off and walked back out into the main area, we all sat down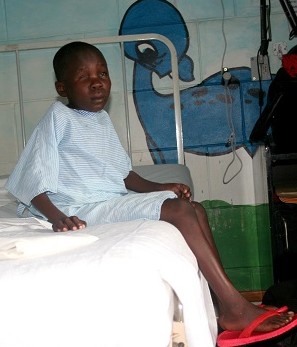 around his bed and prayed together. Praying before a serious surgery like this is a meaningful time, it brings a peace of mind that comes from God, and it is a sincere way to let the child know that we love them and will be praying for them during the next couple of days. After the final 'Amen,' we said goodbye, knowing that Livingstone was going into one of the most difficult things he will have to undergo in his entire life. As we hugged him and assured him of our return, he smiled his brave little smile and waved to us goodbye.
The next day we anxiously awaited a call from the surgeon. Did the surgery go smoothly? Was Livingstone awake yet? Finally, that afternoon, we were given our answer. The surgery to open his imperforated anus was successful and he was doing great!  He was now fully conscious and was eating well. Unfortunately, the surgery had taken longer than expected and because Livingstone's immune system is weak and he is quite malnourished, the surgeon choose not to reattach intestine which would get feces passing through the anus right away due to the fact that it would force Livingstone to remain unconscious for too long. He felt Livingstone's body wasn't prepared for both an anal re-construction and the attachment of the colon at the same time.  We were feeling optimistic though, relieved that the doctor was successfully able to complete the first half of the proposed plan. We were happy that Livy's post-op healing process was going better than expected, but we were slightly disappointed that he would have to have a second surgery to attach the colon in functional position. With this news, we headed back to Kampala to check on our little patient the following morning.
Back at the main hospital in Kampala, our nurses and I walked to the children's recovery section of the building. As we approached the bed where we had left Livingstone three days prior, we surprisingly found it to be vacant. Confused, we asked a nurse where they had brought Livingstone and his mother. Expecting her to point us to a different side of the room, she informed us that Livingstone had been deemed too old to stay on the children's level of the building. Instead, he had been moved upstairs with the adults. Shocked that someone would re-locate a boy who looks as if his 6 to an area filled with only adults, we walked to the upper level to investigate further. Sure enough, there sat Livingstone and his mother, eating their lunch, directly beside a man who looked to be over 40 years old!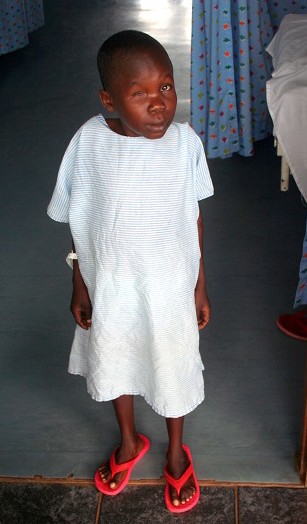 As we came closer, Livingstone grinned and greeted us warmly. We were happy to see that he was already sitting upright knowing that only about 30 hours ago he had been bought out of the operating room! For the next hour, we sat and talked with Livingstone and his mother. Our O4A nurses made sure that both Livingstone and his mother were aware of all the medical details, and we all encouraged him to try walking around the area beside his bed. To our surprise, he was taking steps with ease! It was then that I truly realized how much of a fighter this boy is! We've had this same surgery done on other kids and they've often taken several days to even get out of bed at all.  He had underwent a major surgery in an area of the body that is quite sensitive one day and the next day he was up and walking! Seeing that his physical health was improving much faster than we had expected he was discharged a couple days later!
We drove back to Kampala to escort Livingstone and his mother back to the Jinja region. This time, Livingstone was happier than ever! He had been told he was being discharged and correctly associated our presence with his ticket home! It took quite some time to sort out his paperwork, so I kept him company while our nurse, Olivia, talked to the IHK nurses and filled out the various financial and medical forms. We sat on a balcony that overlooked the back-half of the hospital. The two of us played simple games and I taught him how to say "up high, down low, too slow!"  He laughed as I would point at different body parts on his face as he would try to recall the English names for nose, mouth, eyes, and teeth. It was then I realized that Livingstone is a brilliant minded child. Though he has never gone to school, he has managed to learn many English words and phrases and his ability to process new information is astounding. It would be difficult for many 12 year old kids to begin school at that age, but I am sure Livingstone would fit right in with his peers. Our hope and prayer is that after he has become an O4A graduate, he will have the ability to begin going to school!
Later that day, I took Livingstone down to the main level of the hospital to get a breath of fresh air. It should have taken us about one minute to walk from his bed to the door, but instead, it took us about twenty. Livingstone insisted on greeting all of the other patients and nurses whom he had apparently made friends with in those short four days. To my surprise, all of the patients and nurses wanted to talk with Livingstone as well! Because all of the people remaining on that level of the building were significantly older than him, I noticed that Livingstone had become a 'kid celebrity' during the few days he was staying in the recovery room. One teenage girl walked up to the two of us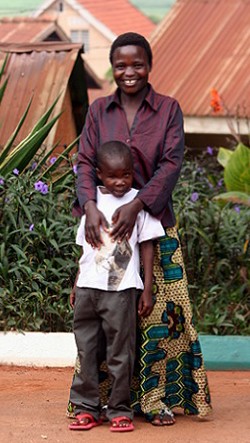 and pointed at Livingstone asking "would it be alright if he comes over and talks with my mom one last time before you leave?" Of course, I agreed and proudly watched as Livingstone spoke with a hospitalized, middle-aged woman like they were old friends.
I genuinely believe that God brought Livingstone to that section of the hospital not only to recover from his own surgery, but to bless the other patients who were recovering from their own surgeries. He brought a joyous flicker of light to that busy hospital in Kampala. Livingstone was not only strong enough to undergo a serious, painful surgery and be able to be discharged within four days, but he had the strength to show love to the patients and nurses around him. Livingstone is a joy to be around and an intelligent, thoughtful child. He deserves to be able to go to school and make friends his own age. Please keep Livingstone in your prayers during these next few weeks. Pray that his second surgery, which should be in a month or two, is a success, pray that he never loses his spirit of innocent light, and that he remains living strong.
Ugandan Advice: When someone tells you that you are "looking fat," take it as a compliment.