It is finally here…Ugandan Presidential elections!  During the last couple of weeks the nurses and I ha
ve been extra-ordinarily busy finishing various tasks so that we wouldn't be forced to work very much during this politically chaotic week. The streets are flooded with people parading and protesting. I am planning on staying at the guesthouse almost all of this coming week in order to avoid the angry and excited throngs of Ugandan citizens. This being said, I finally have enough time to stop and reflect on some of the exciting things that have been going on with One4Another.
In many past blog posts, I have written reflections about the impact that the 18th man program is having on our kids here in Uganda. I have witnessed many people benefit from being a part of one of our generous Canadian sponsor teams.  But, I haven't been in touch with the effect that the 18th man project has on the young hockey players themselves because I'm not able to see first-hand the hockey teams receiving an update about the recovery process of their Ugandan player.  However, I have had the opportunity to see many letters and pictures coming from smiling Canadian faces with messages that absolutely convince me of the positive effect the 18th man project is having on the teams.  Therefore, I am going to share with you two recent stories that show the genuine kindness of two up-and- coming Canadian NHL players and the positive relationship it has brought to two young boys here in Uganda.
Shahad received an injection for malaria when he was 4 years old which accidentally damaged the main nerve that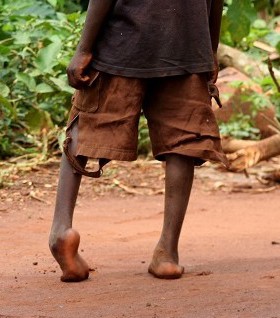 runs down his left leg. He has dealt with the pain of living with a condition very similar to a club foot ever since.  The past three months have been life-changing for him. About a week after visiting his house for the first time and talking with his Jaja (grandmother), we asked him to come to the Jinja clinic to begin with foot casting. Not long after, we scheduled him to have a surgery. Thankfully, his operation had no major complications and he was able to return home after a couple recovery days. For the past few months, Shahadi has been visiting the clinic for medical reviews and cast changes. Now, finally, he has been fitted with a brace and is walking with no trouble at all!  His team, the Atom A Blue Oakville Rangers has been faithfully sending pictures and team updates, but Shahad's biggest surprise from his Canadian hockey team came when we visited his home for the second time.
Early last week, we drove to Shahadi's Village. We were greeted warmly by his older sister and other siblings (Shahad lives with his grandmother, but she was away working in the garden at the time.) His sister set down a beige, reed-woven mat as we handed Shahad a backpack and instructed him to open up the package–full of many surprises from his team. The Atom A- Blue Rangers had remembered from a previous video update that, like most young boys in Uganda, Shahad's favourite sport is football (soccer) and therefore decided to send him a new soccer ball! Shahad and his friends LOVED the new items! The Rangers had done an excellent job of sending both practical and exciting things to their Ugandan player.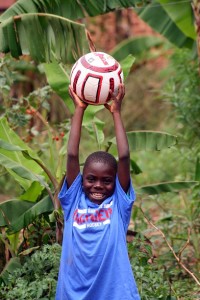 Then, about halfway through the event, Shahad pulled out a little box. There was a note attached to the top of the colourful, tin lid. I read it aloud in English, while our nurse, Toni translated the message. It read:
"Dear Shahadi, please keep and enjoy a few of my favourite toys. Look inside the treasure box! From, Ryan."
Shahad then begin to pull out and investigate each item from the little box. His friends watched in anticipation and wonder as Shahad held the little toys above his head for all to see. In this special box, there were bouncy balls, a Pikachu Pokémon toy, hockey and soccer trading cards and even a fold-up Frisbee!  The final treasure that he removed from the box, was a shiny, golden medal….one that is familiar to many Canadians: a Timbits hockey medal!
In the moment, I was touched by Ryan's generosity, I could tell this boy had put a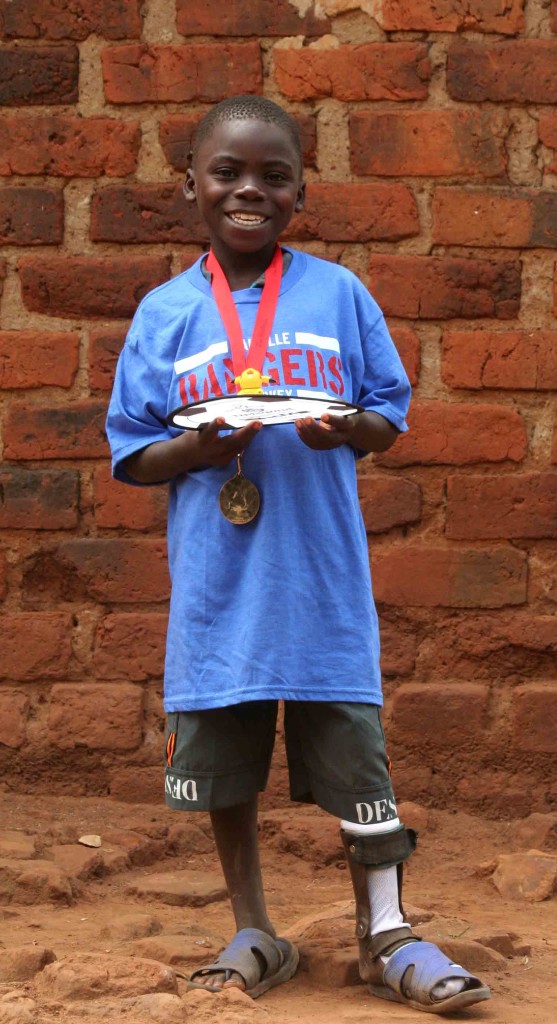 lot of thought into the special treasures that he wanted to send to his Ugandan teammate. Then, as we left Shahad's village, I thought more about how kind it was for this young boy to package up some of his most treasured possessions and send them overseas!  The things he gave had value to him, and that is why he wanted to send them
to Shahadi. It is amazing to me that a ten year old would be generous enough to give up something like a winning medallion or some of his hockey cards which he has probably been collecting for years.
Ryan, although I do not know you, I would like to thank you for this humble act of kindness. You are wise beyond your years. I know many adults who wouldn't do something as thoughtful as you have done for your friend, Shahad. You have no idea how special those gifts will be to Shahadi's community. Toys like the ones you gave him are so rare in Uganda. In the village, children usually play with toys that they have constructed out of various items from the nearest trash pit. That box of treasures WILL be treasured by Shahad forever…and I doubt he will ever forget the day you and your team sent him such thoughtful gifts.
The next story I am going to share has been shaping itself during the last couple of months. You may remember Yasin from earlier blog posts. Yasini is a happy 12 year old boy who I have grown to love during my time living here in Jinja. After suffering many months with an Osteomyelitis bone infection eating away at his left tibia, Yasin has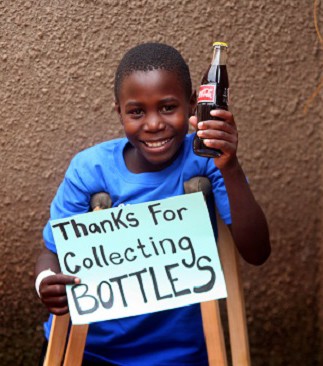 been able to have the needed surgery to clean out his leg. His 18th man team, the Minor Bantam AA Oakville Rangers, have also been very diligent about updates to Yasin…they even instructed us to show him pictures of the bottle drive that they did to help fund-raise the money for Yasin's surgery!
About a two months ago, we received a unique and very personal letter from the Goalie on the AA Rangers team. I could try and summarize the letter, but I was so in awe of the kindness and bravery of this 13 year old hockey player, I will let the message speak for itself.
"Hey Yasin, hope you feel better from your surgery. If you don't know who I am, my name is Matthew, and I play for the AA Oakville Rangers, the same team that raised money for your surgery. I also heard you have Osteomyelitis which is actually the same disease I had on my ankle. So I actually know what you went through, and I hope your leg heals soon. I will let you know that even though the surgery is fairly painful, but after that there is no pain like you have experienced recently. But trust me it's worth it because you will have a lot more chances at sports and even other things unrelated to sport and will require your legs, but the most gratifying thing about the surgery was well, not losing your leg, and the fact that now all the pain that you had is
now gone. I hope you feel better soon, Yasin. From, Matthew."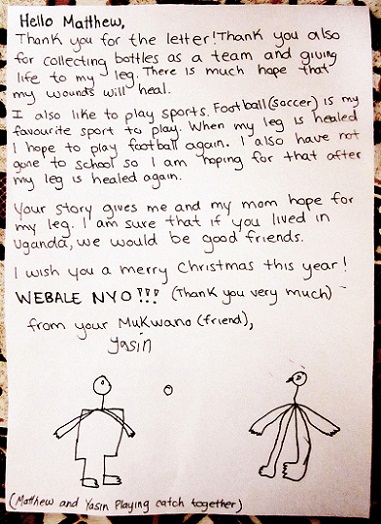 After reading this letter to Yasin and his mother, they were deeply touched, so they decided to write a letter in
response. We helped Yasin translate the words he wanted to share with his new Canadian friend. He insisted on drawing a picture of the two boys playing ball together at the bottom of the letter and made sure that Matthew knew his favourite sport was football (soccer.) Yasin also told me to write that it made him very sad not being able to play soccer, and he was looking forward to playing sports after he was completely recovered from the recent surgery. Little did Yasin know, but telling Matthew about his love for football, would inspire his new friend to send him yet another surprise.
I am guessing that when Matthew read Yasini's letter, he realised that a bone infection was only one of the many things that they both had in common. In particular, I am sure that Matthew realised that the two of them share a passion for sports. This, then gave him the idea to send his Ugandan friend a bag full of new soccer equipment and other useful supplies!
On the day we drove to Yasin's house to deliver the pack it wasn't until Yasin had opened the backpack that we found the letter from Matthew and his mother. It was then that I realised this whole gift idea had come from the mind of a caring, compassionate 13 year old. As the nurses expl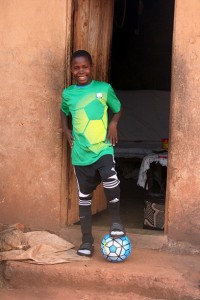 ained to Yasin that the gifts had been put together by Matthew and his family, I became overwhelmed in unbelief that one young man would have the heart to be a friend to someone whom he knows so little about. I can't speak for Matthew, but I am sure that both boys share a deep connection to one another. An ocean lies between them, yet they have been able to relate to one another because they have fought the same fight. It doesn't matter if you live in Canada or Uganda, having a severe bone infection, spending weeks hospitalized, undergoing a long recovery process would be a lonely and undoubted painful experience. The fact that Matthew is now strong and brave enough to reach out to Yasin is a gesture that has really moved me.
Matthew… thank you.  Thank you for continuing to be a brave leader and blessing to Yasin and his family. I know that if you ever had the chance to spend time with Yasin, the two of you would be the best of friends. You are a positive influence and a noble testament of what true generosity and compassion looks like.
Ugandan advice: Sometimes, words in Luganda have two different meanings. Make sure any new vocabulary you add into your mental Ugandan dictionary doesn't correspond with any foreign slang words.