This week I "switched roles" for one day. Usually the nurses and I are the ones to bring a child into the clinic to receive help from a doctor, but last Thursday, our nurses had to bring ME to one of the clinics we use in Jinja. About five days prior, I noticed a red lump on my back and assumed it was some kind of insect bite. I asked one of our nurses to look at it. After assessing the lump, she agreed that it was probably a large spider bite. Four days later, the bite was not improving. In fact, it felt worse. There were constant, sharp pains shooting from the swelling area and the lump was leaking weird liquids. To spare you a very disturbing mental image, I will not go into any other specific detail. That day, I showed our nurse the wound again. This time, she knew exactly what it was. We headed straight for the clinic where we usually send many of our kids. The doctor examined my back and injected a local anesthetic to numb the area. He then proceeded to squeeze the lump on my back. After a few minutes of pressing on the wound, he exclaimed "it's out!".  "….What's out?!" I had asked anxiously. Apparently, a grub-like worm had buried itself in my skin and had spent the last week feasting on me. When I realized it was a worm that had given me this red, loonie-sized sized bump, I was beside myself in disgust. Although it was traumatizing to know that there had been a worm in my skin for six days, I got a little taste of what our kids feel when we bring them to the clinic with problems much worse than mine.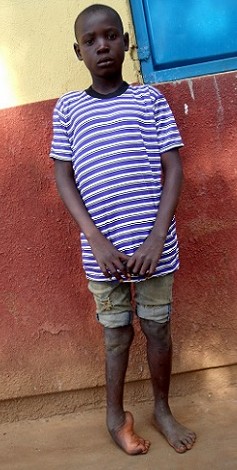 Throughout my time in Uganda thus far, a boy named Aggrey has been a child I have come to know very well. We have spent a lot of time together, and despite the language barrier, we seem to communicatee in a very relaxed manner. 11 year old Aggrey has been struggling to cope with a clubbed foot for his whole life. Since the day that he took his first steps, he has been limping. Before his surgery, he could put some weight on his right foot, but was constantly in pain due to walking on what is the top of his foot.
Aggrey turned out to be a perfect match for one of the minor hockey teams who is involved in our 18th man program. It wasn't long after our nurses met with Aggrey and his father for the first time, that the Peewee AE Oakville Rangers heard the news about their newest team member. They were so excited to help out! The team fund-raised the money for Aggrey's surgery and went above and beyond by sending an authentic jersey along with other Oakville Rangers uniform gear to their Ugandan player.
Aggrey's story is not a simple one. Even though we work alongside highly trained surgeons, we still sometimes come across medical complications. The number of days a child is kept at the clinic following their surgery to correct a clubbed-foot is about 4-7 days. The total time which Aggrey spent bedridden at the clinic after is operation turned out to be almost three weeks, and he remained in the clinic just shy of one month.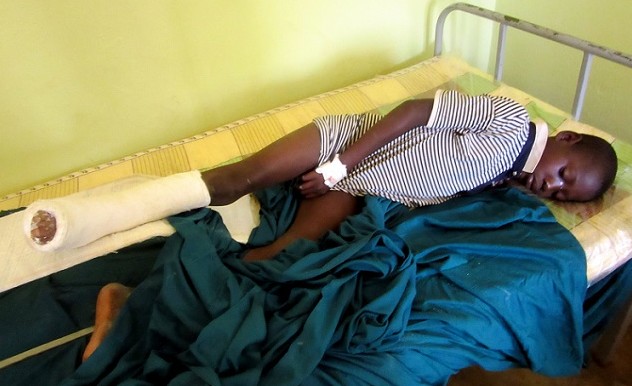 At first, Aggrey's surgery had seemed like any other clubbed-foot operation, but by the third day, we could easily see that something was not right with Aggrey's toes. Despite providing him with the appropriate dosage of painkillers, Aggrey was in an abnormal amount of pain. The week following his surgery he was constantly crying, awkwardly laying on his hospital bed with his right leg slightly elevated. His body was craving sleep, but Aggrey was in too much pain to even rest. Our nurses talked with the surgeon and concluded that his foot was becoming swollen due to a lack of blood supply to the toes. The doctor immediately removed the cast after this assessment and wrapped the ankle and foot in a tenser bandage. We visited with Aggrey daily, but his foot did not begin to improve until the following week. Slowly, Aggrey's toes became more mobile and the swelling subsided. By the end of week three, Aggrey was ready to undergo a second procedure to remove the dead skin on his toes and the wound was thoroughly dressed in order that his foot could be casted again.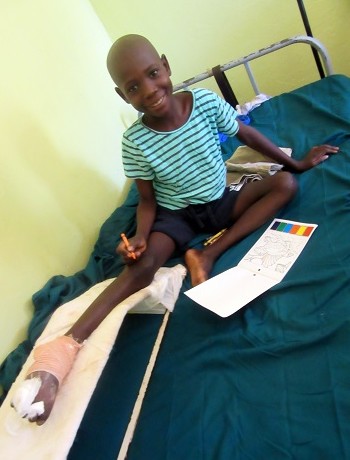 During the weeks that Aggrey was staying at the clinic, another boy named Yasin, who is the 18th player of the Novice AA Oakville Rangers, was recovering from a surgery that helped improve the Osteomyelitis infection eating the tibia bone in his right leg. The two boys remained in the same recovery room almost throughout their entire healing processes. Aggrey and Yasin, very close in age, formed a strong friendship. I looked forward to each day when I would walk into their room and see both of their faces light up with excitement. I loved the days when the nurses and I would bring them a toy, candy, soda, or little coloring book to keep them busy. They would laugh and hug us with such pure joy, then talk among themselves about the new treasure they had just received.
Most of our kids have at least one parent that remains by their side throughout their time of recovery at the clinic. Aggrey lives with his father because his parents are separated, so his dad was chosen as the responsible guardian to accompany Aggrey. Unfortunately, Aggrey's father is not a very compassionate man. He depends on alcohol to cope, and is usually far from sober. During the times when he should have been with his son at the clinic, he would aimlessly roam around Main Street searching for booze, paying little attention towards Aggrey. Most of the time, Yasin's mother was the adult who fed and took care of Aggrey. Without Yasin's mother, there would have been no one on constant alert for Aggrey's well-being, which is crucial for this type of surgery. After two weeks of living at the Jinja Orthopedic Clinic, Aggrey's father was becoming very impatient. Even though Aggrey was not healthy enough for discharge, Aggrey's dad would plead us to let the two of them return to their village. Finally, after many days of begging, we decided to let Aggrey's father travel back to their village, with the agreement that Yasin's mother would be the one to care for Aggrey. Overjoyed, the man left in a hurry, leaving Aggrey crying.
During the next week and a half, Aggrey, Yasin and I would have long conversations in their hospital room. We would find ways to communicate, despite the language barrier. We took turns saying funny words and sentences to one another, practicing each other's languages. Yasin's mother would cook hot meals for us and I would bring the two boys fun new toys to play with. I taught them hand clapping games and would listen as they would jabber on about silly things that they knew I couldn't understand. They would laugh at my ignorance of their culture and tell me they were going to fly back to Canada on an airplane with me. I will remember the days we spent in that little room forever.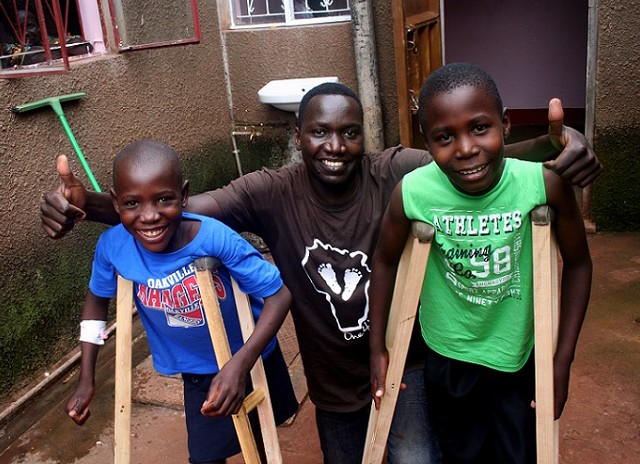 One particular morning, I walked to the back of the clinic and saw Yasin and Aggrey walking! They had taken their first steps together! It was such a beautiful moment to see the two of them so happy. That was the day I learned the Ugandan word for "walking.""Tambula, Tambula, Tambula!"  We had all laughed and chanted as we slowly walked around the back of the clinic.
A week later, Yasin was well enough to be discharged from the Jinja clinic, but we knew Aggrey still had at least another four to five days before we would be able to drive him home. We said goodbye as Yasin and his mother left the clinic in happy spirits. The following day, I arrived to see Aggrey sitting alone in the front waiting room. As per usual, I expected to see him giggle and jabber in excitement as we walked through the door, but instead, he hardly looked at me, let alone smile like he usually does. Right away, I knew something was wrong. Was he in unexpected pain? Sick maybe? I asked him how he was feeling. His gaze still not meeting my eyes, he responded "fine."  Nope. Aggrey was not fine.  He never gave me one word answers. Then it hit me. Aggrey was lonely. He had just spent his first night at the clinic without his buddy, Yasin! I asked one of the men who works at the front desk to ask him if he missed Yasin. Just as I thought, Aggrey admitted he really wanted Yasin to come back to the clinic. I had not seen Aggrey this gloomy slice the week after his operation. His own father had left him and now his best friend was gone as well.
Around lunch time same that same day, our nurses and I thought it would be nice to buy Aggrey a soda and some ice cream to cheer him up. From past experiences, I was certain these little treats would lift Aggrey's spirit. I was expecting to see his face light up when we handed the food to him. As we gave the bottled coke to Aggrey, his face did show some excitement, but when we gave him the ice cream, he displayed no emotion whatsoever. His face then began to look confused and he suddenly started asking our nurses many questions. I inquired as to what he was talking about and our nurses informed me that he was asking why it was brown. 'Well, of course it's chocolate' I thought to myself. Then, listening closer to the tone of their conversation, I realized that Aggrey had never seen ice cream before, let alone one that looked like the colour of mud or something even worse! Shocked, I urged him to try it, so sure that he would enjoy this new, cold treat. I was wrong. It was such an unknown taste for him that he refused to eat more than two bites.
Despite our efforts to make Aggrey feel less gloomy, he still missed Yasin and longed to see  his family again. We knew that we had to find a way for Aggrey to return home. Finally, about four days later, the doctor gave us permission to bring Aggrey back to village. On the morning of his discharge, we shared the joyous news with him. Aggrey was in unbelief. After assuring him that we were not joking, he became so excited and eager to return back to the familiarity of his own household. We packed up the few items that Aggrey had with him and drove him two hours back to his village.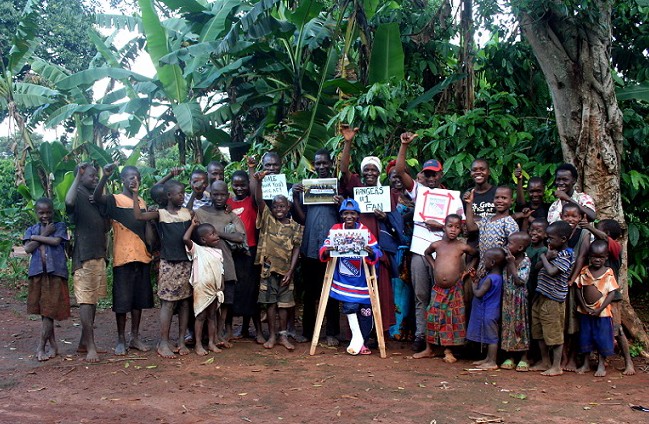 Along the way, we stopped at a small, local restaurant. Aggrey had never been to any type of restaurant before, so we had to explain to him what was happening. To my surprise, when the waitress came to ask what we were going to eat, he ordered without hesitation. He asked for beef stew, rice, matoke (unsweetened, mashed bananas) with a glass of water. It was so funny to see him suddenly become direct with the waitress, especially since he had never done anything like this before. After we finished eating our meal we washed our hands and headed towards his village one again.
When we approached the area close to where Aggrey lives, he began yelling names and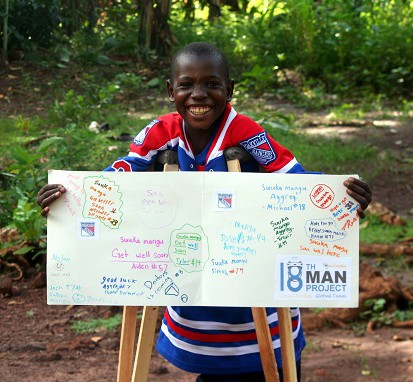 happy greetings out of the the window at every home we passed, shouting to all of his neighbors whom he had not been able to see in almost a month. Finally we reached his home and were greeted by Aggrey's grandmother, father, brother, uncles, aunts, cousins…almost all of Aggrey's extended family were there. Aggrey and his relatives live in the same area and each family has a separate hut for sleeping. Their eating, working, playing and living are all done as a family community. After we greeted, many, MANY people, we gave Aggrey the gifts from the Peewee AE Ranger boys. The team had sent a jersey and a special card which read "suuka mangu" (get well soon), along with other Ranger's clothes that made Aggrey look like a true Canadian hockey player. His whole family was delighted to witness this special occasion and they cheered when Aggrey dressed himself in his new sporty hockey outfits.
Now, Aggrey comes into the clinic twice a week for a review, and every time we see him, he is wearing his Oakville Ranger's clothes.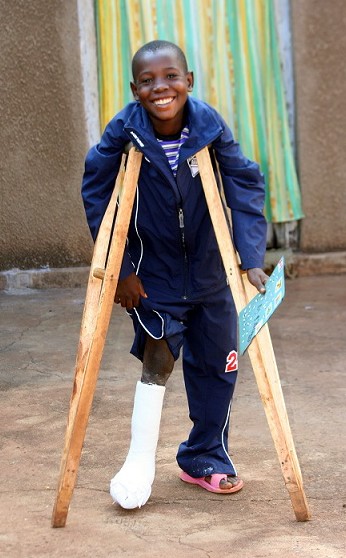 He loves coming into the clinic to show off his Canadian hockey gear, and I love it when he comes into the clinic because he always brings his unforgettable, innocent joy along with him. His smile and joyful heart brightens up our day. Each time that we are working at the Jinja Orthopedic Clinic and I do not see Aggrey there, it feels as though something is missing. Aggrey has taught me two important lessons. One, is that even if you are going through a time of immense suffering, there are always things to be happy about. The second, I realized towards the end of Aggrey's month at the clinic: patience is important, even if you are unaware of the timing of the outcome.
I say this about many of our kids, but Aggrey truly holds a special place in my heart. I will never forget this boy– so full of life throughout such a difficult circumstance. Even though I once felt it was my job to make him feel joy amidst a time of great pain, he was bringing just as much joy to me as I was to him.
Ugandan Advice: Be prepared to be followed by many happy, screaming children when you think you are heading out for a quiet evening jog.