Every now and again you have to 'fire' something up which implies a bit of an ordeal and usually a belch of smoke.  There's a nervous hope that it'll come to life and then remain alive.  My lawn mower is like that and the funny thing is that even once it's been going for a while, out of the blue, it'll sputter just to keep your confidence in check. Putting these blogs together can be a little like that.  Just when a few lines seem to be coming along and I insert a couple pictures the formatting takes a temper tantrum.  One little stroke of a key and my nicely spaced blog has gaps the size of the Red Sea.  There is a neurotic subset of the population who are convinced that when creating something you really care about it must look exactly right otherwise it's preferable not to even try – I've been a longstanding member of that group.  If you find yourself among us please use any formatting glitches as part of your daily practice of letting things go.  As a final point in this confessional introduction, the title I've chosen for this blog is a clear sign that it's been neglected to the point of embarrassment (on the upside I've not been having many people unsubscribe lately).
Having arrived back in this electrically charged land I'm confronted by the sheer realness of it all.  I've just come from lunch in town where I ended up becoming involved with a sizable strong looking young man.  He was walking toward me as I was walking to the little spot I eat at and right away it was obvious that he was very sick.  His left leg was several times bigger than the other and he said he has cancer.  He then said he was walking to Kampala (90km) to try to get to Mulago (Main Government Hospital in Uganda) in order to have his leg cut off.  After a prolonged discussion about what to do, and realizing that he was essentially homeless, I asked him why he didn't appear to be in pain (it was impossible for him not to be.)  His reply, in broken English and a heavy accent was, 'I am in great pain but I have no one to cry to.'  With that his strong stoic face flushed and a small window opened, he swallowed hard to clear the tenderness away, and the window closed.   We'll follow up with him tomorrow but the point is things get very real quite quickly.  But before you know it the joy and laughter of this place comes to your rescue…otherwise we'd be swallowed up by the hardships.
Today, I'm writing while lying on my bed with my laptop resting on industrial bubble wrap for additional comfort.  An african breeze comes through a giant window.  Other than a sparse room all I can see is the blue sky and huge banana leaves lazily hypnotizing me as they sway.  Each time the trance seems to be taking effect a local cow makes a noise that is the opposite of hypnotic and I get back to putting this blog together.
As I work away at O4A in Canada during the year I come to know the O4A kids from a distance through their charts with pictures and reports, and through conversations about them on the phone but when I meet them…it is as if I have been trying to read a pill bottle when someone finally hands me a pair of readers (which I don't need yet).  Their life stories are compelling and vivid to the point where it's a bit unrewarding to show a few pictures and to reduce a remarkable life into a short caption.
Lately, something seems to have sunk in a bit deeper for me about our purpose here.  Organizations and businesses come up with their mission, vision, and core values, etc. but often do so in the context of a staff meeting where everyone is desperately wishing it was time to go home.   I've noticed recently that a core vision for our work seems to have clunked into position for me with no real effort to conjure it up.  It's not like it's rocket science but it seems to have hit some sort of motivational bedrock.  The vision is this: we want our O4A kids to know they are loved.  Olivia has found an attendant to look out for one of our boys because his parents are not interested in being with him.  When I met this attendant yesterday and saw her come to this boy's bedside as if it was her own son and when I saw the softness in her face revealing her kindness I felt this rumble of truth.  I feel it when hockey teams and classes of kids champion the cause of the child they're supporting.   When they put backpacks of gifts together, write letters of friendship, and send drawings they've made.  I feel it when a Ugandan mom gets down on her knees, bows, and repeatedly says, 'thank you'.  When others at home are struck with compassion for the plight of these kids even though they have never seen them – the rumble comes. Whatever furthers the O4A kids feeling loved – within the process of providing surgical care – will guide us along.  Since we have been blessed beyond our needs by our Maker and loved by our families,  it follows that we love one another – as much for our own well-being as the others.  It's woven into our natures and our most basic need.  Some might argue more than food or water.  These kids need a love that pushes hard against the darkness so let our love come with a force.
So here's a few of the O4A Kids…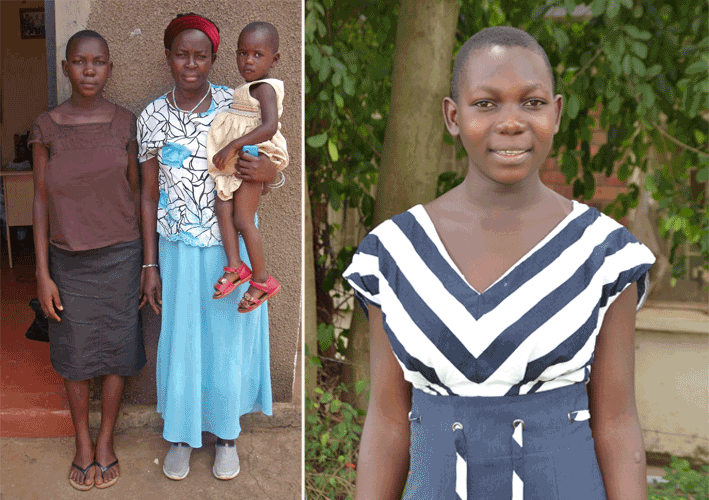 Sylvia…is 16 years old and came to us in considerable pain as an exceptionally large mass had been growing in her right breast for the last two years.  After having it removed she can go back to school relieved of the shame of being looked at and teased.  She can grow into her beauty.
Shakira & her Mom…were in a car accident in which Zaina's brother (driving the boda) died on scene.  Shakira was banged up very badly and Zaina suffered a fractured femur.  They have both healed well and remarkably Shakira will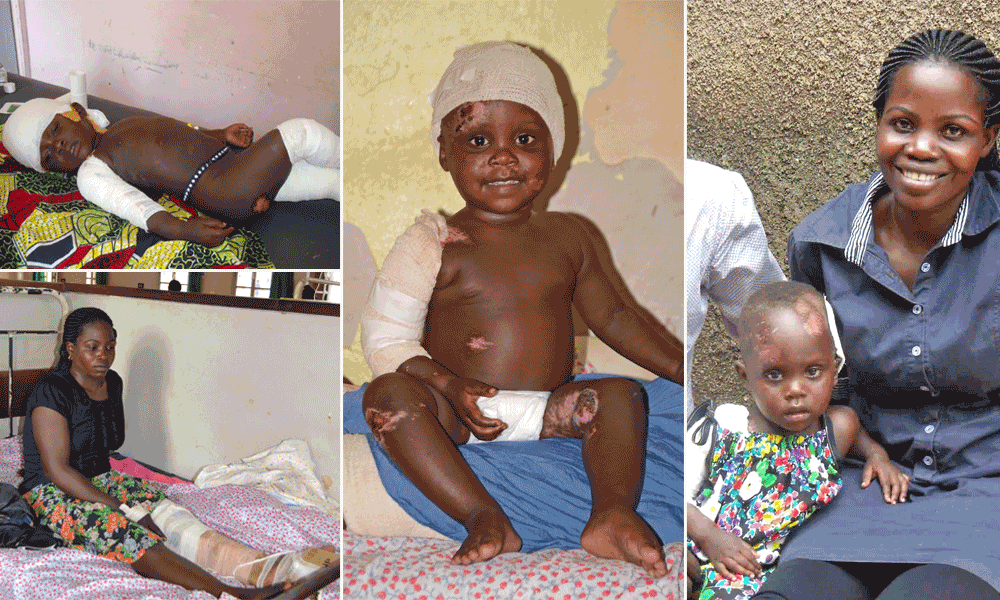 have no lasting deficits.  One of my favourite… things is seeing what Dr. Moses can do for these wounds.
Gift…was badly burned after boiling water spilled on her.  Thanks to the surgeons at Corsu she had the contracture under her chin released so that she can now look up and has much better range of motion.  Next she will have the contractures under both arms released through plastic surgery so she can lift them up again.  Gift is a little girl filled with joy.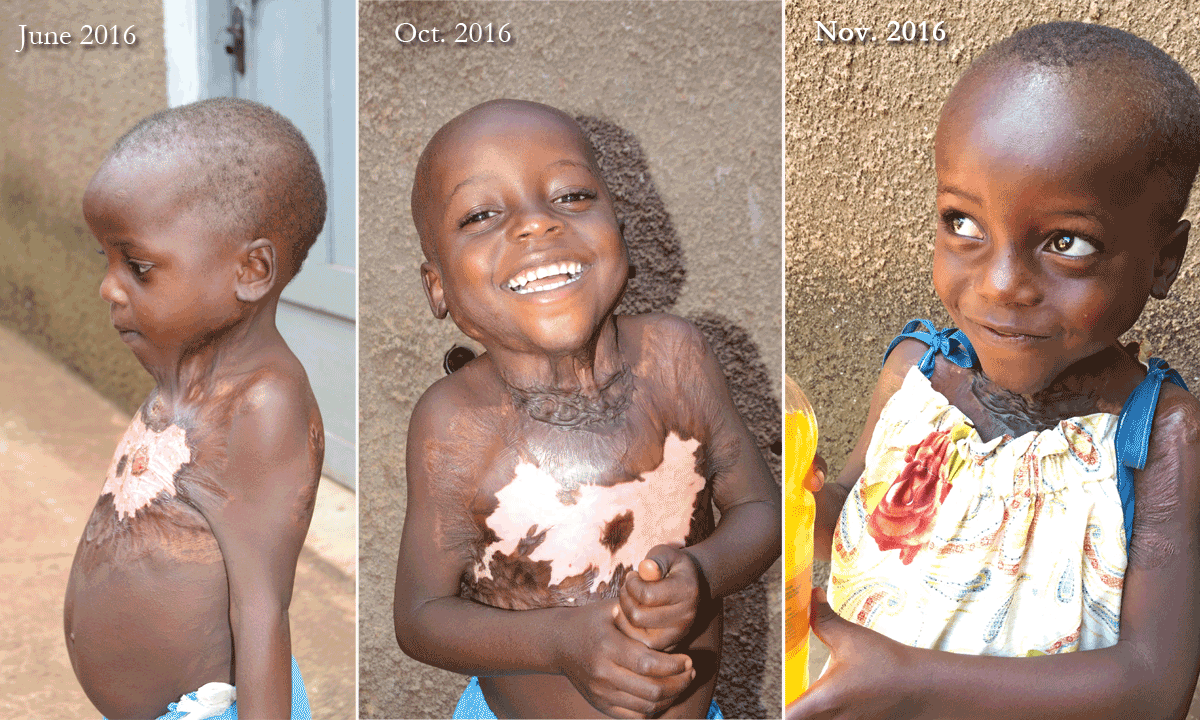 David…is 16 and has lived with double clubbed feet his whole life.  His mom and grandmother have not paid him any attention until now when they can see that they might gain some advantage through O4A for themselves.  Our nurses had to advocate on David's behalf just to get them to consent to the surgery because they weren't going to allow him to have it (they use him for the sole purpose of taking care of their cows).  David, being 16, and able to speak up for himself began to cry and protest against his mom saying, 'this is my chance.  You have seen me struggling my whole life with this condition and these people are here to help me.  Mama please.'  Afterward, we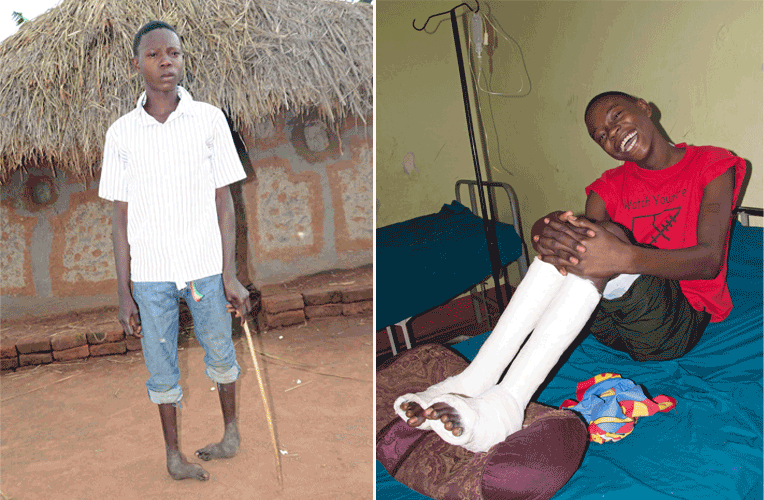 involved the LC Chairman who also advocated for David and finally the mom consented.  Since she was an uncooperative parent we hired an attendant for David who would be with him for an extended period on the ward to cook and take care of him.  Normally, a parent or family member attends to the patients needs while in hospital.  It is for boys like David that our vision, 'Let them know they are loved' becomes very real.  The Oakville Minor Midget AAA Rangers have taken David on as their 18th Man which allows us to take good care of him on their behalf.  When he first came to the clinic for treatment there was next to know life in him.  You can see that he has begun to feel hopeful.  It is a sad thing when a child would rather stay in the hospital than go home.  But if he can receive a vast amount of care we trust he will walk properly but also that he will know his worth and that he's love by God.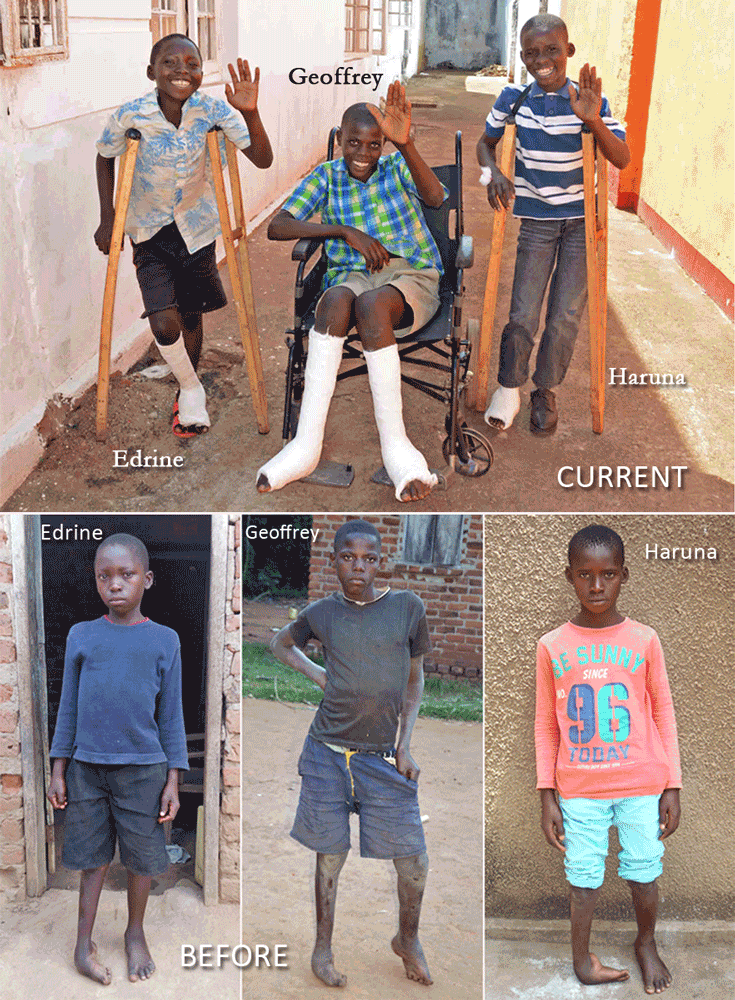 The 18th Man is in full swing…and here are just a few of the 17 kids that are currently paired with minor hockey teams who fund the correction of their clubbed feet and correspond with them throughout the season.  The kids in this program know they are cared for to the point where it can be overwhelming.  Everybody wins in this scenario not the least of which are the Canadian kids as they see what it's like to share with those who have very little.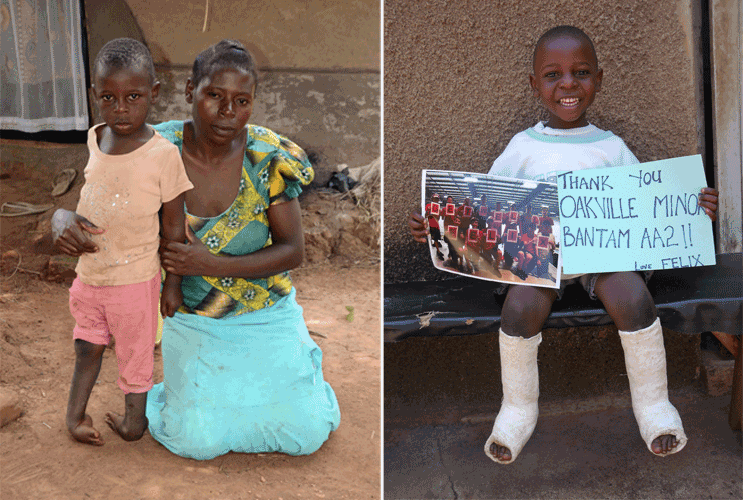 Felix…is another example of a newly formed hockey fan.  His mom's main concern was how she would be able to afford the transportation costs to get her little guy into town for his surgery and follow ups.  We arrived unannounced through a word of mouth referral to check on Felix for our program so you can imagine how surprised and excited they were.  As if the opportunity fell from heaven.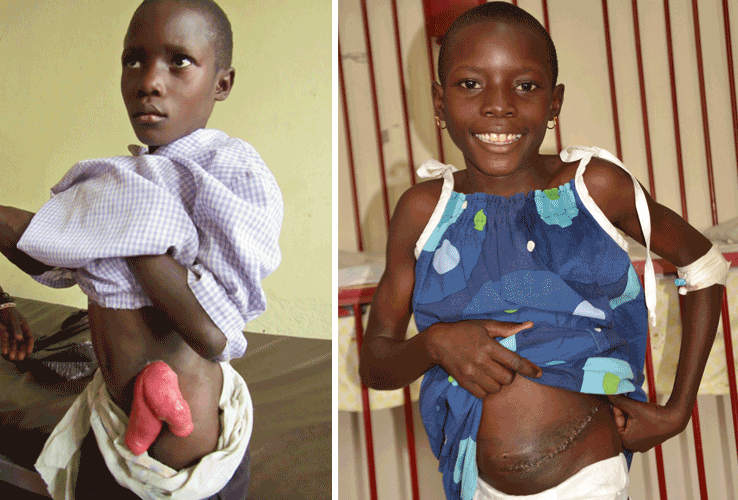 Janet…One of our beloved O4A girls who has endured so much to reach this truly remarkable moment.  We began in April 2015 and, 5 surgeries later, here we are today with a closed colostomy and a functioning anus.  She is a pillar of strength!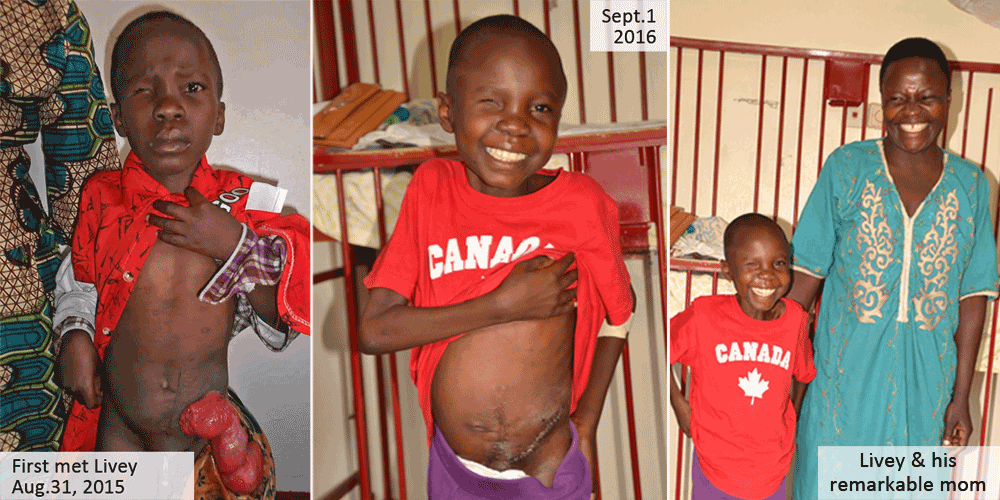 Livingstone…is another one of our beloved sons who has traveled the same road as Janet and has made us so proud to know him.
Ok, this might be heavy stuff, especially if you're reading first thing in the morning so let me balance it off with a little levity to make it go down easier.  The lovely cleaning lady, Florence, at my favourite guesthouse gave me a bit of a scolding for not giving her my room key for the last two days so that she could clean the room and remarked this morning, 'Gland, you give me your key today…your room is so dirty.'  Fair enough.  The lovely cook, Vicky, upon seeing me with short hair and no beard, suggested, 'Gren you look like a baby.'  Finally, as I go to sleep tonight it occurs to me that I have two very flat pillows except that each pillow has a bulging lump on one side.  I've found that if I stack them inversely the two lumps cancel each other out and together the pillows provide a flat surface.  Last night in my dreams I kept feeling like I was rolling off a cliff and I think I've just sorted out why.  And, by the way, in case you're wondering, talking about love and such things is not usually my first choice in topics.  The word itself often gets stuck as it tries to find it's way up and out from the heart.  But, sometimes, it just breaks through whatever log jam exists in and around the sternum area.
Thank you so much for following us!  If you have any questions or would like to know more feel free to email us or make a comment.  May you be blessed in your support and care for our work.