As much as I missed spending Christmas with my family this year, it was exciting to enjoy the Holiday season here in Uganda. I spent Christmas day with the family of O4A nurse, Olivia, and enjoyed being a part of a cultural family Christmas. We even went to the local sailing club along the Nile, where I learned how to dance to Ugandan- style music! On New Year's Eve, I watched fireworks with my friends from the guesthouse as many of the surrounding hotels were celebrating 2016 with a firework display. The best thing about celebrating New Year's here is that the moment the clock turns to 12 am, the city erupts with shouts and the sounds of car horns from all directions. The happy commotion lasts about ten minutes and everyone stops whatever they are doing to run around screaming "happy new-year!"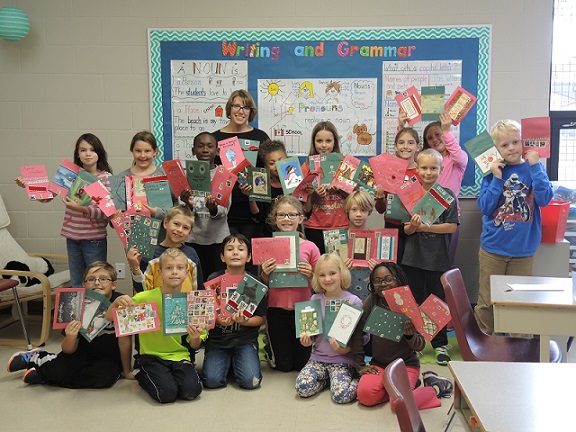 In the spirit of Christmas, I am going to share with you two stories of how One4Another has helped to bring "Christmas cheer" to the Jinja community this year. The first story is short and sweet to write about but in reality this Christmas story was being shaped throughout the latter half of 2015. Some of you may have heard of Laurentian Hills Christian School (LHCS.)  This Kitchener elementary school is very close to my heart because I am an LHCS alumni. I have many fond memories from my four years spent at that school and know that the teachers are dedicated, godly people. One of the Grade 4 teachers at LHCS is Terri-Lyn Mantel. Terri-Lyn has always been very connected to One4Another, so for the last few years, she has decided to have her students create Christmas cards for the O4A children here in Uganda. She also used this opportunity to teach her students about the lifestyle of families living in Uganda and compare those conditions to that of their own lives. Her class was so excited to participate in the project this year and ended up creating over 50 cards to send to our kids!
The nurses and I had the fantastic job of handing out these Christmas Cards and watching as the children read the messages from their "Canadian friend." Most of our children live in the villages surrounding Jinja and therefore do not own a TV, so having the opportunity read a message from different country and see a picture of a child living somewhere other than Uganda is a rarity. Having direct connection to someone living another country is always a big deal for our kids. I watched as many of them gazed in wonder at the student's picture which was glued onto the card, and smile as they would point at the drawing that the student had doodled for them. Some of the children would laugh at the sound of the name of their "Canadian Christmas friend" and try to pronounce the difficult and odd-sounding English words. This project was an intriguing learning opportunity for both the Grade 4 class of LHCS and the O4A kids who were receiving the letters. The children from both countries were able to learn about child's life that was completely different from their own, and bless that child in a positive way!
Currently, the kids of Ms. Mantel's Grade 4 class are raising money to fund an entire surgery for one of our kids! They are now in the process of planning a hotdog luncheon to raise money enough money to sponsor a surgery. Terri-Lyn informed us that the lunch was entirely the student's idea and that it was the students who took the initiative to inquire for grocery store food donations.  This truly is kids helping other kids! Thank you LHCS Grade 4 students!  You are great examples of what it means to be leaders and you are inspirational Christ-like role models for your peers!

The second story I am going to share with you is a Christmas miracle thanks to the Guelph Gryphons PeeWee AA and Minor Atom AA Hockey teams!  Two of the O4A boys, Isaac and Jacob, have been tremendously impacted by the 18th man sponsorship program. The Gryphons have been so diligent about constant connections and communication to their Ugandan players. You may recall reading two separate blogs about each of these boys, as they have both received personal gifts and Gryphon gear from their hockey teams in addition to having their surgeries funded.

Yet, the teams felt they could do even more to help their 18th player. The Gryphons had an idea that was beyond raising the funds for the two boy's surgeries. They contacted us and asked if there was a way for them to pay for their Ugandan team member to go to school as well as bless their players with some clothes and supplies for their families. We were so pleased when we heard about this idea and decided that Christmas would be the perfect season for this project!
We were eager to put together a list of necessary supplies for the boys and their families. After calculating the cost of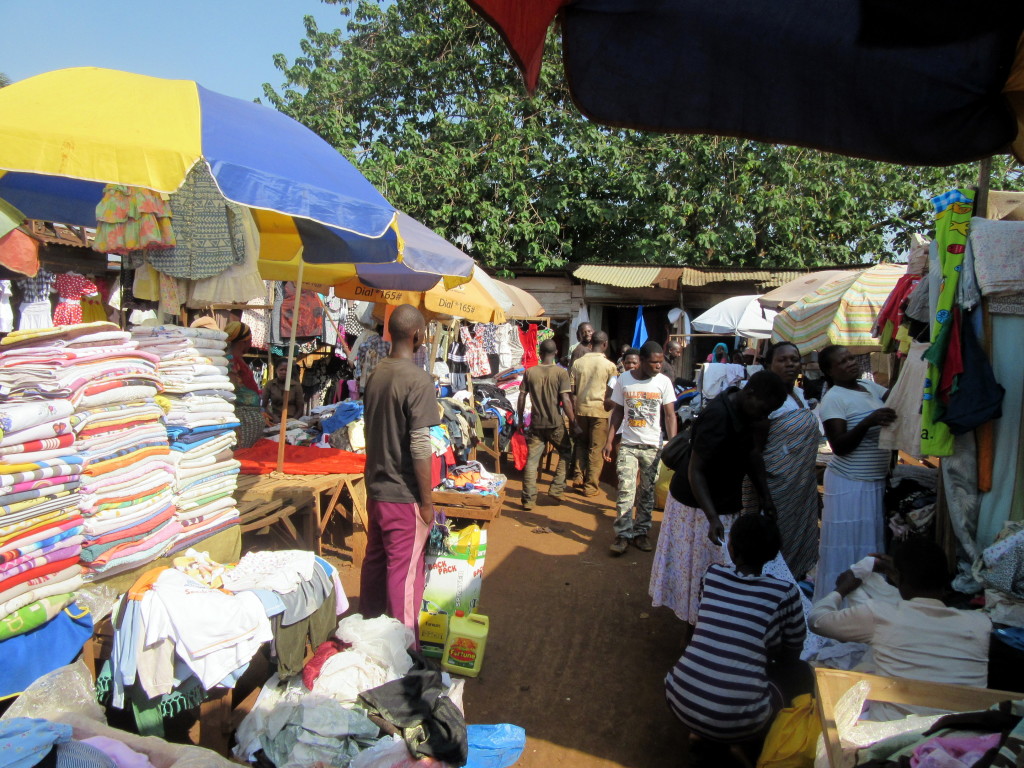 the Jacob and Isaac's school fees, and summing together the amount of money it would cost to purchase the supplies, we even had money left over to help jump-start a financially sustainable business for Jacob's unemployed mother! We discussed this idea with the PeeWee AA Gryphons and then communicated the offer with Jacob's mother. She agreed to purchase children's clothes and sell them to people living in her village region.  A week before Christmas, the nurses and I set side one day to go out buy all the items that we had planned to purchase. Together, we sorted through clothes and toys at the market and choose foods and hygiene supplies suitable for each family. It took us the entire day to find all of the things we had planned to buy! When it came time to look for maize flour, we had an idea. Our nurses have a strong relationship with a boy named Willy, who is now a proud graduate of O4A.  Although Willy's family lives in the village, his father sells maize flour in town as their source of income. We bought six full bags of maize flour from Willy's dad which benefited his business! In total, we were able to purchase: 12 cooking pots, 7 toothbrushes, 4 tubes of toothpaste, 2 loaves of bread, 2 toy trucks, 8 bags of rice, 6 bags of sugar, 6 large bags of maize flour, 2 kerosene lamps, 4 jugs of kerosene, 2 mattresses, 4 blankets, 3 grocery bags filled with various articles of clothing, 2 pairs of shoes, 6 large bars of soap, and 2 mosquito nets.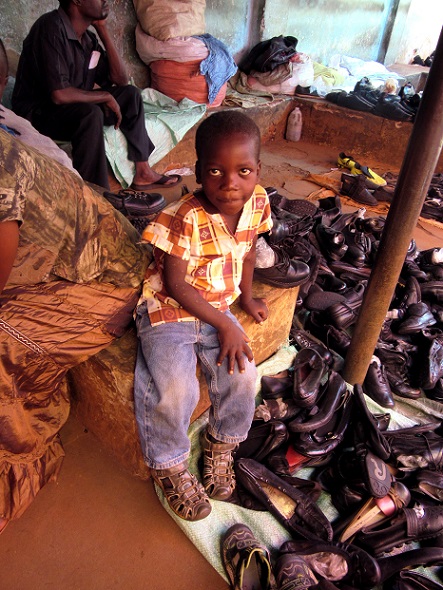 Three days before Christmas, It was time to deliver the surprise to Jacob and Isaac's families. We told the boys and their parents to meet us at the orthopedic clinic. After they arrived, we drove them to a nearby market and told them that their Canadian hockey team sent money to buy new shoes for each of them! The two boys rarely receive items such as new shoes or clothes so this outing turned out to be quite the adventure! Upon reaching the area of the market where vendors are selling shoes, we all climbed out of the car and walked to the back of a huge tent, full of people selling different types of shoes. The way in which the shoes were "displayed" was in large piles of loose shoes. I originally thought it would take about twenty minutes picking out shoes for the boys…but the process ended up taking almost two hours. The majority of that time was spent searching through unmatched shoes hoping to retrieve ones that actually made a pair. Nonetheless, the boys loved their new footwear and wore them proudly for the rest of the day.
By the time we got back in the car, we were all feeling rather hot and uncomfortably drenched in sweat. So, Olivia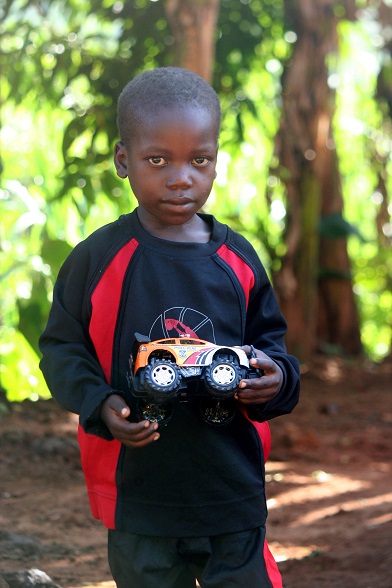 and I decided to stop at a little supermarket and buy refreshing sodas for everyone. I watched as both of the boy's faces lit up in pleasure as they began to drink their kid-sized orange sodas. In his local language, Jacob looked at one of our nurses and said "it must be Christmas!  We are drinking soda!" Then, after informing the boys and their parents not to peek at the items piled in the back of the car, we set off to drive Jacob and Isaac back to their homes. Awkwardly squished in the back of the car, we bounced and collided all the way to Isaac's village. When we got there, the nurses and I began to unload all of the goods and supplies from the trunk. Isaac and his father, both soft-spoken and standoffish in nature, watched curiously as we placed each item in front of their house. We spread out all of the surprises on a reed-woven mat as the family began trying on the clothes and looking through the goods that we had purchased. I could tell Isaac was shocked and still slightly confused, and it took a while before he understood what was happening. Like always, Isaac did not show much emotion, especially since there were many people who stood watching the event and I was doing my best to take a photo of him looking through the gifts. It was Isaac's father who did most of the talking. Over and over, he shook our hands and sincerely said "webale, webale" meaning "thank you, thank you." Then, when Isaac thought that I wasn't looking…out of the corner of my I caught him excitedly showing off his new toy truck to his brothers. He sat grinning; amused and captivated as his eyes followed the wheels as they rolled over the dirt.  We left Isaac's village as the family sat outside of their house, father and grandmother waving and smiling, while Isaac happily played with his new toy truck in one hand, tightly clutching a new tube of toothpaste in the other.
By the time we had finished bringing the all of the items to Isaac's village, it was late in the afternoon. Fortunately, we reached Jacob's village within an hour and began to unload the rest of the items from the back of the car. Similar to our recent visit with Isaac, we spread out the purchases in front of Jacob's home, watching as the family became more and more excited with every new item we sat down on the mat. Jacob lives in a small mud-brick house and the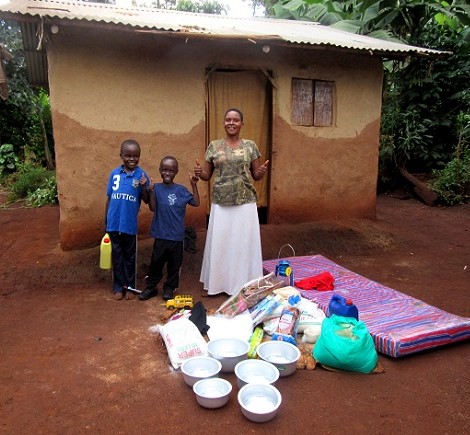 "lot" in front of Jacob's home has hardly enough room to walk more than five steps. Jacob's gifts took up half of the area in front of their house! We had expected to see Jacob's older brother, Junior, the moment when we arrived at their house, but he did not end up joining the event until after all of the items had been spread out in front of their home. When Junior finally arrived, he had no prior knowledge of what was happening, so the expression of excitement and surprise on his face was priceless! Right away, the boy looked at his mother and exclaimed "is ALL of this for us?" After his mother had enthusiastically responded that it was in fact for their family, the three of them shouted and laughed together, gazing at their new treasures with joy and disbelief. They could hardly fathom that people who live on the other side of the world had bought them all of these special Christmas surprises!
As I reflect on that day, and the excitement that we shared with these two families, it causes me to compare the
happiness that Jacob and Isaac experienced to the joy I have felt on Christmases with my own family. For a child, it is one of the greatest feelings in the world to wake up and realize it is finally Christmas morning. I can recall many Christmases when I would awake strangely early and anxiously ran down stairs to simply stare at the presents sitting under our freshly decorated pine tree. Even at a young age, I knew that the "reason for the season" is most importantly commemorating the extraordinary birth of Jesus.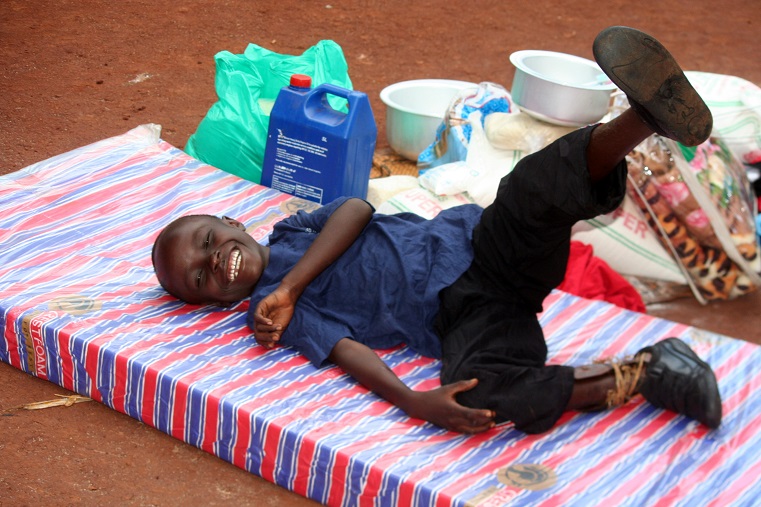 Although giving presents is one of the main things that helps us celebrate Christmas in North America, it is very uncommon to exchange gifts in Uganda. Even if it was a tradition, most families would not have enough money to purchase gifts. Most Ugandan children associate Christmas with the anticipation that their parents will prepare a large meal, some hoping that they will get to drink a soda if they are lucky. Jacob and Isaac's family are no exception. These two families have never received Christmas gifts like the ones given to them by their Canadian hockey teams…let alone have such a stockpile of daily necessities for the upcoming year.
"WEBALE, WEBALE, Guelph Gryphons!" You have brought so much joy to a country located on the other side of the world! This is a gift that will change the lives of two sweet boys and their families forever. I am honored to have had the opportunity of bringing such a life-changing surprise to both of your 18th players. Delivering these special gifts to Isaac and Jacob is a Christmas experience that I will never forget. Because of you, I now have a new and more humbling understanding of how much of a blessing and privilege is it to receive a Christmas present. Thank you for bringing a Christmas miracle to Uganda!


Ugandan Fact: Drive-through fast food should take less than twenty seconds. Simply pull over, hold 2000 shillings out of the car window and…voila…you have chewing gum, sugar cane, fried bananas and chicken on a stick in no time!