The highlight of my week happened on Wednesday evening when I home to the guesthouse after a long day of work. I walked to the backyard towards the area where the cooks prepare dinner to discover that one of the workers was excitedly cleaning 10 Tilapia fish. Assumpting that both myself and the other American who stays at this guesthouse would not want to eat a whole fried fish, she began to fillet two of the Tilapia. I quickly stopped her and proudly announced that this would not be my first time eating this type of Ugandan cuisine and that I could in fact stomach fish eyes and crispy fried fish fins still attached to my dinner. They laughed in disbelief of my bold claim. I am happy to say I proved them wrong, fins and all.
This week I am going to share a story about a little boy named Isaac. Isaac is one of the children who is benefiting from our 18th man hockey team sponsorship program. His Canadian team, the Minor Atom AA Guelph Gryphons, have been so supportive throughout his surgery and healing process. They even sent a backpack full of gifts and treats for their Ugandan player. From the first time I met Isaac, I had been anxiously waiting for the day that we would have the opportunity to deliver these "Canadian surprises" to this treasured member of the Guelph Gryphons Minor Atom AA team.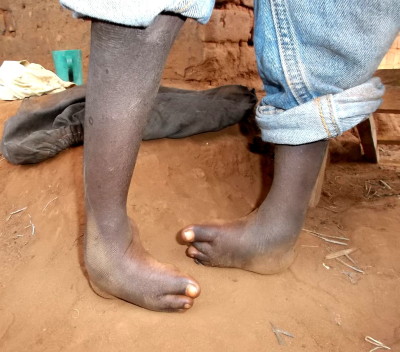 Four year old Isaac lives with his father and three brothers in a secluded village located on the steep hills
surrounding Jinja. Isaac's mother is separated from his father and currently resides in a different village along with three of Isaac's other siblings. Prior to his surgery, Isaac had bilateral clubbed feet, meaning both of his feet were pointed inwards toward his calves, almost so that he was walking on the tops of his feet. Isaac's father, Joseph, brought his son to us back in early September in order to be assessed by our nurses. They went ahead with the surgery a few weeks later. He is now reaching the last stage of his healing process, still wearing casts, and soon will be fitted for ankle braces. He will wear the braces for about a year before his feet are completely set and equipped for proper balance and walking.
Children with situations similar to Isaac, often come into our program feeling depressed and understandably troubled. After their surgery and throughout the time period when their legs and feet are growing stronger, the kids often become more relaxed, outgoing and hopeful. I met Isaac for the first time in early November when he came into the Jinja clinic to have his casts changed. By this time, his surgery had been completed and he had no pain. Yet, I noticed that Isaac was very sad. On the day that I met him, he didn't talk at all. He wouldn't even say a word to our nurses and doctors whom he had met many times before. His face simply showed a complete lack of expression. Our nurse, Olivia, tried showing Isaac a funny video on her phone to make him smile, but he stared blankly at the screen. I tried giving him a lollipop, and he simply held it loosely in his hand with the package still wrapped around it. It's understandable when the kids act nervous or sad when they visit the clinic, because truth be told, doctor visits are not the kind of activities anyone looks forward to! With most children though, I usually succeed at making myself look like enough of a fool to cause them to smile a little!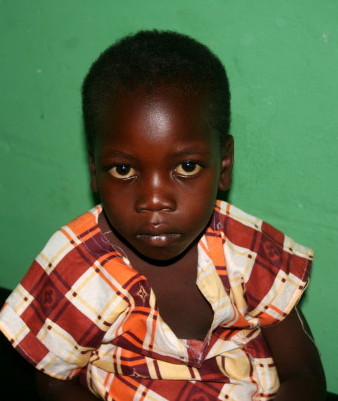 The moment that I met Isaac, he was sitting in a room inside of the Jinja Orthopedic Clinic only moments after his casts had been changed. I walked into the room to find that he was silently sitting alone staring at the naked wall in front of him. I noticed that Isaac was small for his age and could easily pass for a three year old yet the melancholy look in his big almond eyes, gave him the image of an old man, one who has seen a difficult life. We sat there for about five minutes in silence as I watched him stare at that vacant wall, never stressing a line on his face. As we sat there I knew, simply by peering into those sad four year old eyes, that Isaac has been though more pain in his four short years of life than I might ever experience in my entire lifetime. I got to thinking… who am I to comfort someone who I know nothing about nor can relate to in any way? I was determined to try and understand a bit more about what life was really like for him.
My curious inquiries about his living situation caused me to ask our nurses more about Isaac's home life. They tried describing his village, but I couldn't seem to grasp the severity of the things that they were talking about, or even come close picture what it was like to walk a day in Isaac's shoes. It was not until we brought Isaac the gifts from his hockey team that I began to have any idea why Isaac is seems so troubled on the days when he visits the clinic.
The day that we delivered the backpack of gifts to Isaac's home, it was very hot for a mid-November (rainy season) afternoon. We had spent the morning hours at the clinic and had planned to leave for Isaac's house sometime during the early afternoon. We were forced to rent a larger van than we usually drive because we knew that yesterday's rain was going to make the "roads" to the villages extremely muddy. We all had the feeling that the chances of getting stuck in the mud were very high…and we unfortunately were proven correct in our thinking. Because it was so hot that day, I was very thirsty. So, when we stopped for gas early on in our voyage towards Isaac's village, I bought some drinks for us from the little store inside of the gas station. I choose for myself a grape soda, which are very common here. In my thirsty state, I probably drank that grape soda in less five minutes. Shortly after I had finished my drink, we began driving deep into the hilly forest (up and down, and up and down.) Like always, we were constantly bumping and hitting stones that are embedded into the dirt paths, while tree branches scraped the vehicle from either side. It was then that I realized gulping down a soda before this trip was not the smartest idea I have ever had! By the time we reached Isaac's home, we had been driving for about forty minutes…and I had been sick to my stomach for about thirty nine of them! Both our nurse, Olivia, and I had to take a ten minute walk for a breath of fresh air before greeting Isaac's family.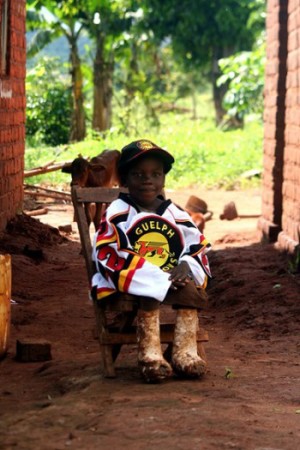 Now that you are able to understand how insane of a drive it is to get to the area where Isaac resides, imagine doing that same drive on the back of a moped. Isaac's family (like all other families who live in the village) does not own a car so his transportation to the clinic is always a boda (motorcycle taxi.) Every time I had seen Isaac at the clinic, he has just been riding a boda, jammed in between two adult passengers, for over an hour. Not to mention he would be riding along roads that are not fit for a vehicle of any kind,  let alone a little motorbike. I was starting to get an idea of why Isaac often appears so depressed.
I will admit that we were concerned about making a video for Isaac's hockey team because he is such a closed-off child. I knew that he was not going to react to the gifts in the same way that many of the other children have thus far. It turns out that I was correct in my thinking and I did have to take more photos in order to capture his rare and precious smile… but I was quickly relieved to see a small but genuine grin on Isaac's face the moment we greeted him outside of his home. This was the first time I had seen him show any emotion at all. I was overjoyed that he was glad to see us. When it came time for him to open the bag full of surprises from his hockey team, his shy smile again found itself present in this exciting event, each time lighting up his little face.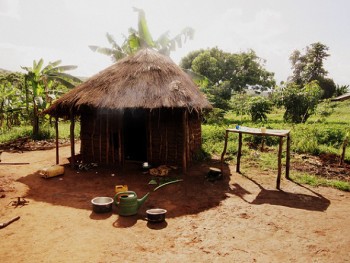 After all the gifts had been given, the nurses and I took some time to look around the area where Isaac lives. His home is very small and dark, it has no electricity, windows or running water. Pushed up against the wall in the corner of his tiny one-room house, there is a bed used by Isaac's father. Next to the bed, there is a muddy blanket lying crumpled on the dirt floor where the four brothers sleep. A few meters to the right of the house sits a little hut for cooking, surrounded by old plastic dishes that litter the ground around the structure. Like most village homes, Isaac's house is made of mud brick, topped with a roof constructed out of thin logs and dried reeds. The people in his area wear tattered, ripped clothes and most of them do not own a pair of shoes. The flies swarm as animals such as cows and stray dogs are free to trot wherever they please.
At the end of our visi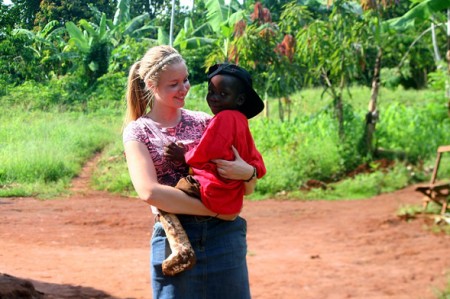 t, I walked over to Isaac and told him he that he was now a little Canadian celebrity. I picked him up and hugged him goodbye. I have come to love this little man. I respect him for being so incredibly courageous and putting up with a life that has seemed so hopeless. From his birth, he has learned to live with a disability that has caused him to be a social outcast, while trying to live out his life in such crushing poverty. I put Isaac down and we all said our final goodbyes, then we got back in the car to drive another forty minutes of car-sick nausea back into town.
I do not want it to seem like I have tried to diagnose why Isaac is such somber and closed off young child, but visiting his home and relating to him on a more personal level, gave us a lot of insight.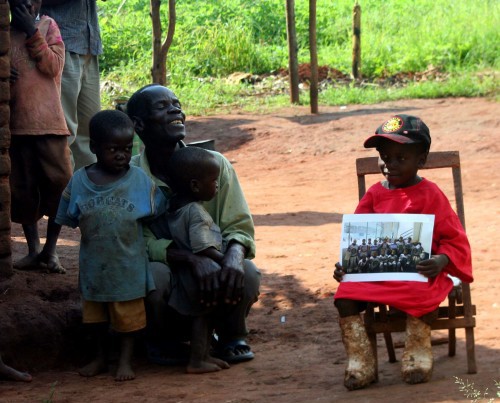 On days like these, I find it odd  to be spending an afternoon in a village, bombarded with such an immense amount of poverty, and then within an hour, I am back sitting in my room which is two times the size of an entire house built for five people from that village. This often causes me to think about my house back home: two bathrooms on the upstairs level, one on the main floor and yet another in the basement…and I don't know what I should feel. I am grateful for such blessings, but somehow ashamed of my affluence and sad about what I just experienced, all at the same time.  I wish that I could give every "Isaac" a bigger house, a bed, a toilet, and some clean water. But I can't…no one can. But, its the supporters of O4A such as the Minor Atom AA Gryphons that have caused kids like little Isaac to feel love and hope amidst what sometimes may seem like a hopeless world.
Ugandan Advice: If you get caught in a tropical downpour, a banana tree leaf doubles as a very useful umbrella.
Here's a video of our visit to Isaac's home!