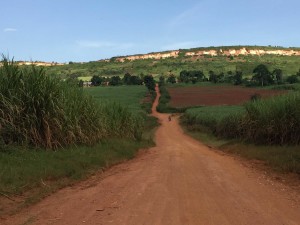 Two weeks of Uganda breezing through the senses, smiling upon me, smacking me at times with it's hard truths.  It's a place where you wake up with blood on your sheets from some overnight insect, but there's pineapple waiting, and someone's thwacking sugarcane with a machete while a rooster coaxes you into the day.  Life is held together by a piece of twine and a serious case of, 'It is possible'.  Yesterday a boda driver was carrying mattresses strapped down by a piece of rope that completely engulfed him while his buddy driving the boda behind him tried pulling him off balance by tugging on the rope.  All of this while the two of them were snaking down the middle of traffic in a lane that wasn't really a lane.
It's a place where the answer, 'it can work' or 'it will be fine' is just about always the favourite answer.  Unless you're talking to an attendant at, 'The Little Woods Inn' in which can the answer is, 'no, it can't work' but overall there is a spirit of relentless optimism born of generations of surviving.
It's a place where buying insurance for your vehicle doesn't make sense.  As the rental lady told me, 'it's a new car…nothing can go wrong.'    'But suppose something does go wrong?', I protest.  'It won't', she says.  'Ok well suppose someone hits me with their car while I'm parked?', I suggest.  'Ahh don't even think like that!', she scolds.  'Listen', I say, 'even new cars break down sometimes and if that happens I need to know that you will pay for the repairs.'  She looks at me as if my knowledge of how vehicles work is to be pitied.  'If it breaks down it must be because of how you're driving it', she advises.  I feel myself entering a room called, 'lament', given the roundabout that I'm trapped on with this dear lady who incidentally is having tooth pain and is asking if our doctor will see her next.  She comforts me saying, 'we'll be friends at the end…you'll see'.  I begin w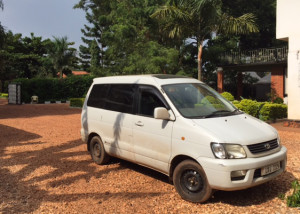 riting a formal contract in which I spell out that if it's my fault I'll pay and if it's not my fault she pays.  I get her to sign it as does Toni's dad (Toni is an O4A nurse), as a witness, who just so happened to stop by the clinic and also happens to be a friend of this lady.  My final argument, which I felt was pretty tight, was that if she's convinced nothing bad will happen to the vehicle then she won't mind signing the contract because it's neither here nor there.  In truth, I think it was her tooth pain that finally caused her to relent and put us both out of our misery regarding damage to the vehicle.  Incidentally, when I went out to look at the van it had been sideswiped, rear ended, the front bumper had a large indent, the battery was strapped down by a clothes hanger and the odometer read, 189,342 km.
It's a place where, as Toni puts it, things are opposite.  When there's a big sign that reads, 'all services at this hospital are free' it means that the services at the hospital are definitely not free.  Just today there's a guy in the paper convicted of fraud whose real name is, 'Innocent'.   It's a place where people's sense of who you are is based on considerably more, or you could say less, than pieces of paper or plastic cards. Last week I withdrew money from our account based on the tellers assessment of me in which me wearing an O4A tshirt seemed to play a key role but oddly it all seemed safe enough.  'Olivia (O4A nurse) told me you'd be coming', he confirmed.
It's a place where the housekeeper Jackson leaves you little hand written notes on your pillow in which he thanks you for entrusting your room to him and he blesses you for your work.  A place in which I am almost always experiencing an itch or irritant that comes from one insect or another.  Just as one reaction is relenting another will take its place to the point where it seems better to accept that it might just be a permanent state.  I love that it's a place where the r's and l's are interchangeable given that my name has an 'l' in it.  Yesterday I went looking for Lubaga Hospital which only showed on google maps as 'Rubaga' Hospital and I could safely assume that it was the same place.
There is a story behind every night watchman, every vehicle left in the ditch, and every set of eyes.  I came back to the guest house the other day and complained to the night watchman that it was a day in which nothing was working out for me.  I innocently asked how his day had been and he jumped into the telling, even acting out, of a tragic story from 2012 in which his dad has just died and he didn't have any money for transportation to the burial.  He matter of factly concluded saying, 'that was a bad day'.
One of my favourite things about this place is that Ugandans are amused by their own quirks as a people.  It's an endearing quality in a person when they can laugh at themself but when a whole culture has that capacity it seems to smooth over some of the rougher edges that wear down the patience.  When someone tries to take advantage of you they are often the most likeable people such that even while their hand is reaching into your pocket you can't blame them for trying.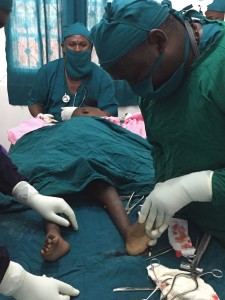 One thing I know is that if we wait until we figured things out completely over here we'd  never start.  So, we've begun where we are out here in Jinja where there are no permanent orthopedic surgeons in the whole region.  By God's grace we have a partnership with a competent and reliable surgeon who travels out every week to operate and an enterpising and resourceful team in the clinic.  I've found that the standard of operations continues to improve and as I visit dozens of past and current patients I can say that the outcomes of the surgeries are among the most satisfying things I've experienced in this life.
I want to leave you with what we heard from a parent of one of the five kids that are currently being operated on for the same rare birth defect.  What she told us is hard and raw.  It is as close to hearing someone speak their deepest truth as I can remember.  I didn't expect this of this boys' mom because she doesn't speak a word of English and she smiles almost all the time so I had no way of knowing how deep her ruminations went nor the depths of her courage.  That said, she has been looking at me with an earnestness that I could feel but couldn't register until hearing this confession.  Her son is 12 years old but is the size of a 5 year old.  He's lived with his intestine outside his body and without an anus making for an entire life of suffering.  Here's what his mom shared with Toni yesterday as her boy recovers from what will hopefully be his second last surgery to correct his birth defect.  Toni writes:
As we shared stories amongst the parents this is what one mom said…her boy was born without the anal opening and this was a trial time to her.  Several times she attempted to end the life of her boy whenever she bathed him. Something always told her to drown him. Sometimes she thought to hit him hard against the wall and at one time she even stopped in the middle of the road hoping a speeding car can kill them both instantly.  Fortunately the driver dodged them. Ever since that day, she changed her attitude towards him. She adds that no one would have ever known that they could reach this far. She has now realized that with the help and support they are now receiving her son will get better, he will go to school for the first time, and even live a normal life like other kids.
Thank you to everyone who makes this work possible.  I extend to you the deep gratitude of so many moms, dads, brothers, sisters, and O4A patients.
Sincerely,
glenn
Group of 5 kids taken to Mbarara Hospital for anal reconstruction to correct debilitating birth defects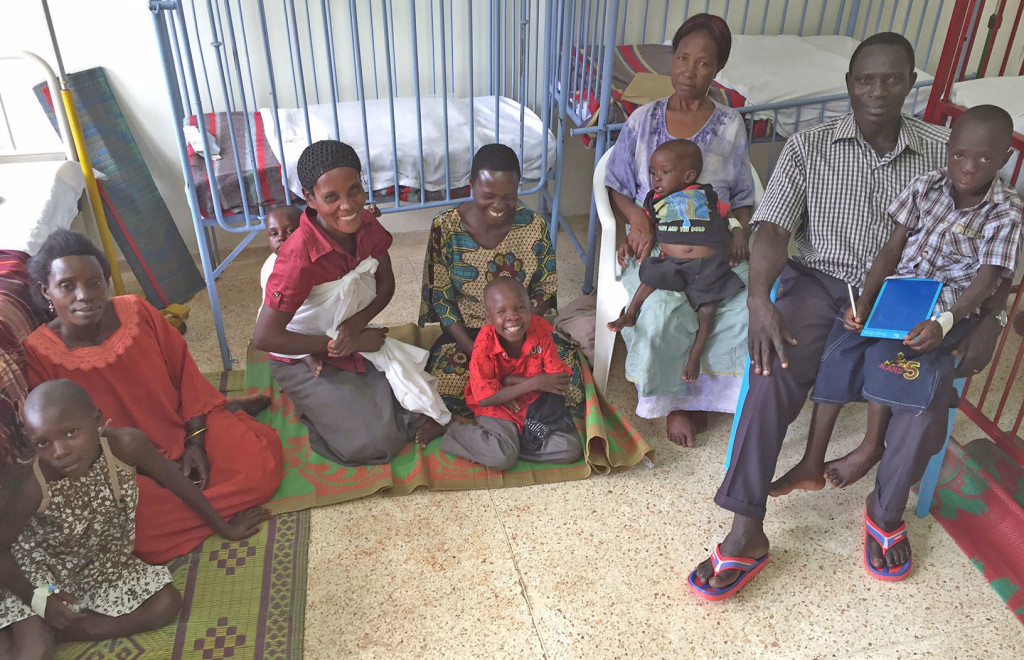 Grateful for the team we have working on our O4A kids.  It is a private clinic that we've partnered with.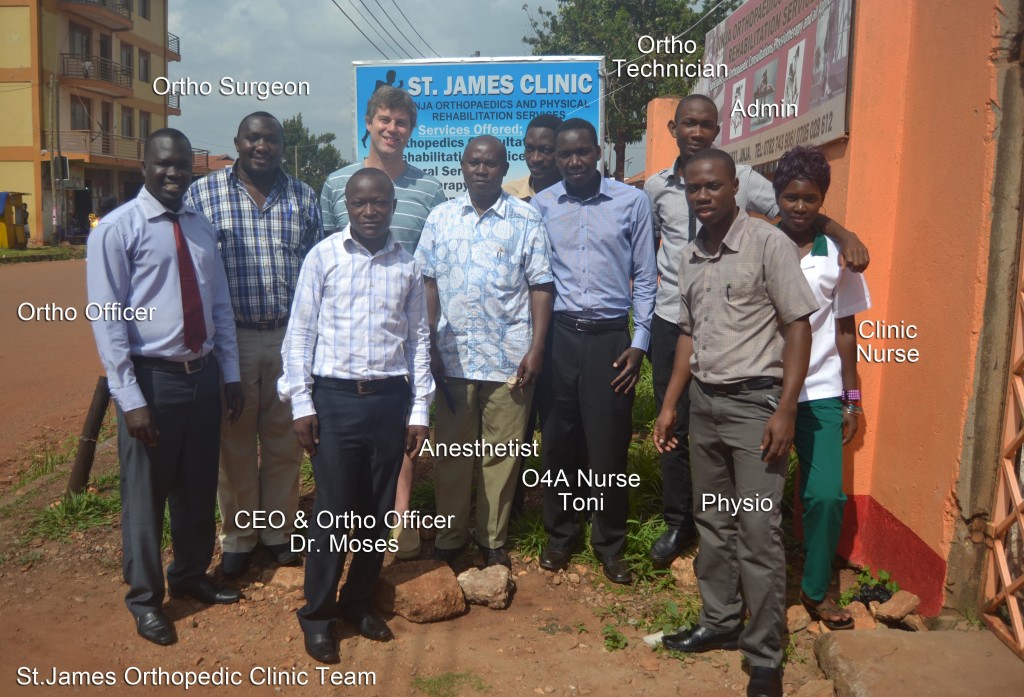 If it's not a Surgery Day it's a Clinic Review Day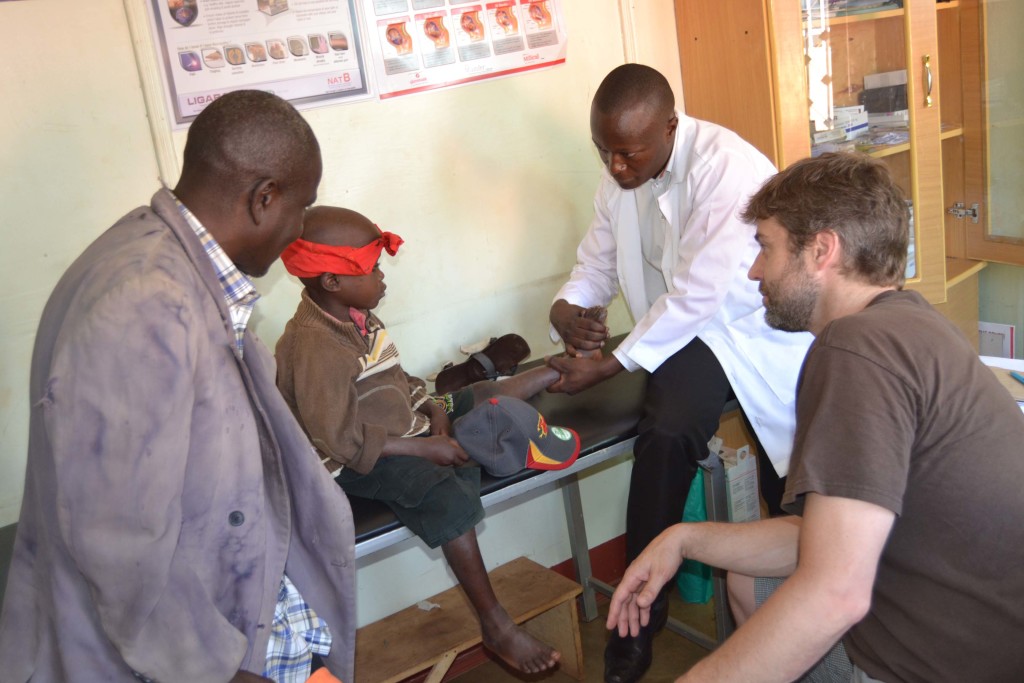 Here are our most common Orthopedic conditions and what successful recoveries look like: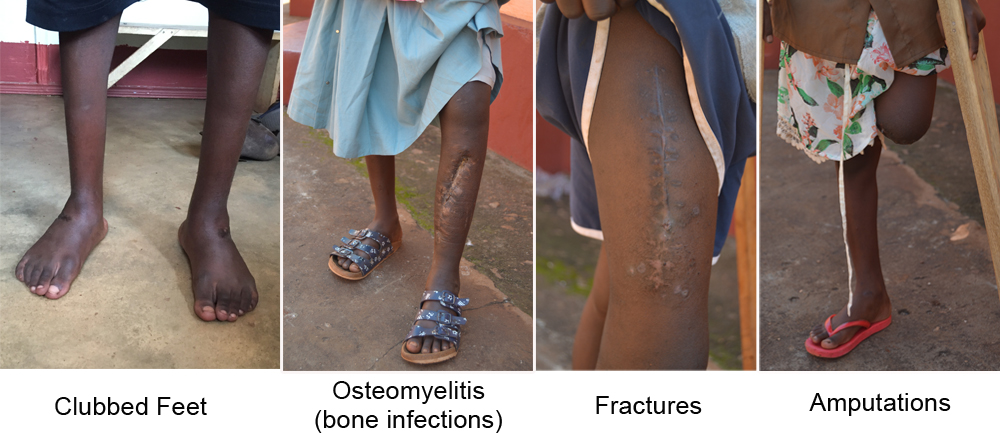 Visiting past patients & checking on outcomes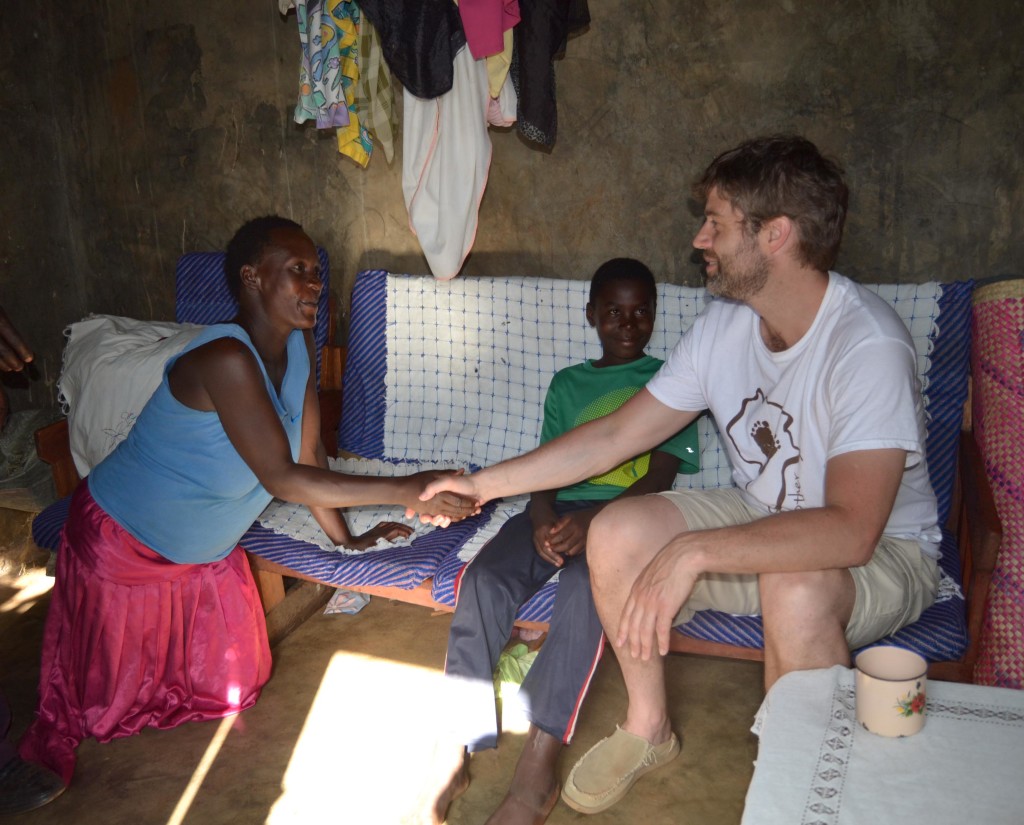 Navigating through language, culture, religion & economics…to find an O4A girl who is now walking without pain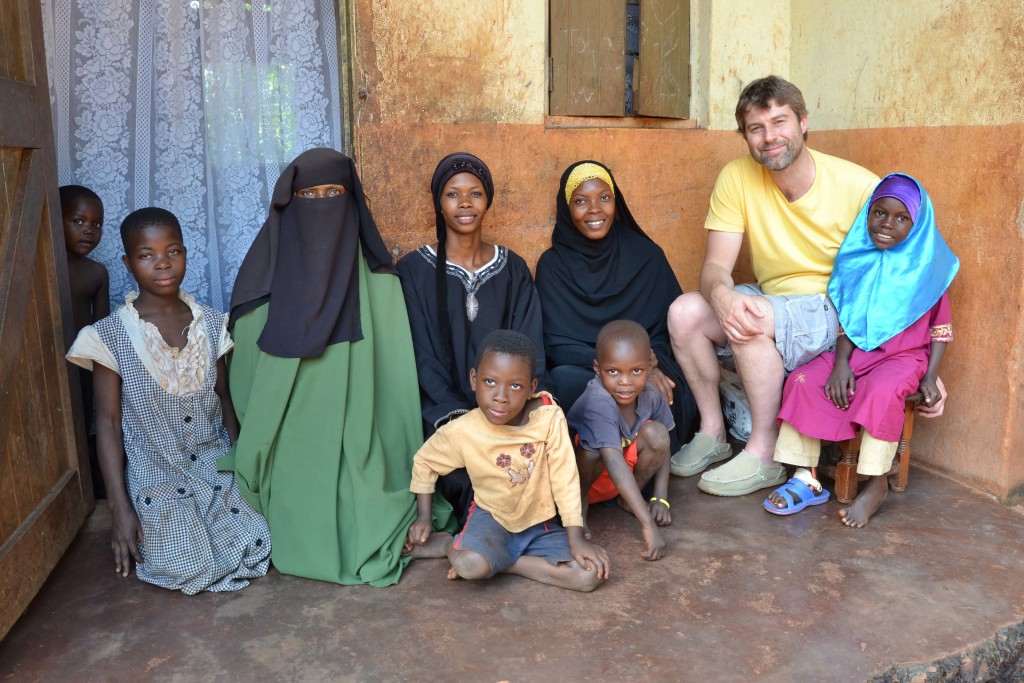 Again, St. James Orthopedic Clinic: Please overlook the inconsistencies and positioning of the signage…remember what I said about starting 'where we are':)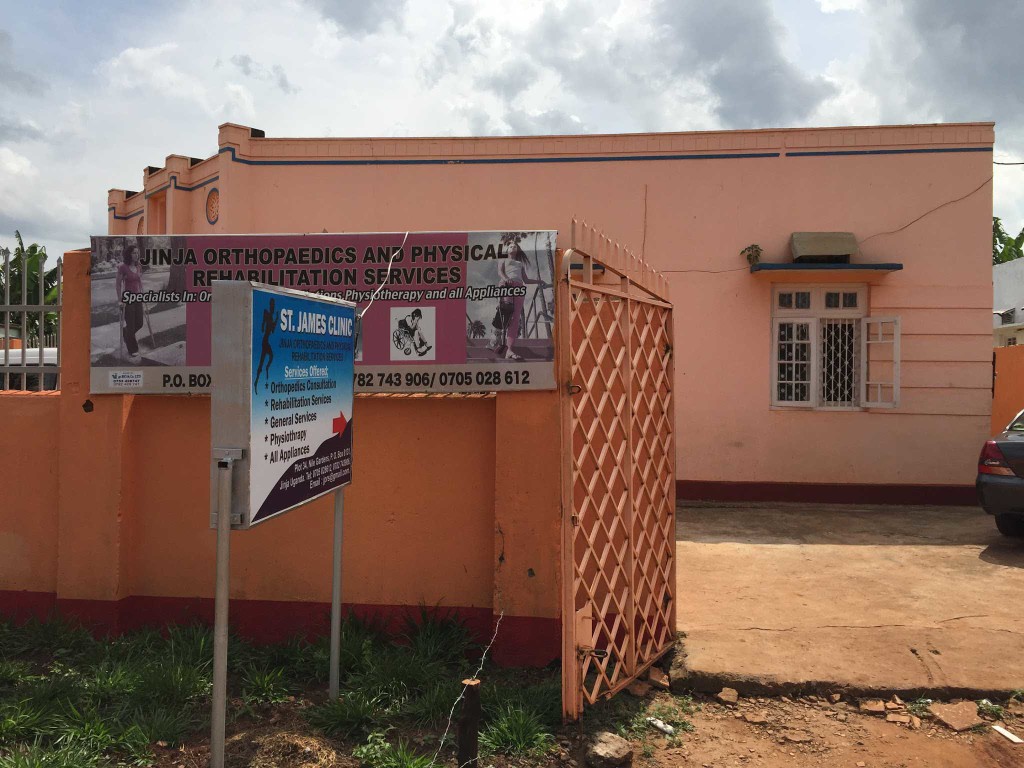 Nelson, thoroughly focused on Dr. Moses' examination and sufficiently sheltered should a cold front move in.