Perseverance is a broad term. It could mean that one has the ability to persevere through a challenging task that may only take them a day to complete. Maybe someone has to persevere though a task such as painting a fence, or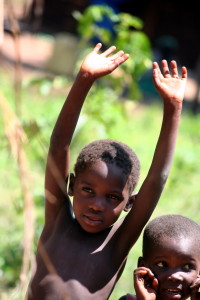 washing a muddy vehicle. This is perseverance on a small scale. Perseverance on a large scale means that someone is forced to withstand something that may be very hard for them to control, usually over a long period of time. Examples of perseverance on a large scale are situations such as having to work through the pain of losing a family member, or a college student who has persevered over years and years of post-secondary school studies in order to obtain a long-awaited degree. These things all involve pain, trials and the ability to endure.  Thus, they demand perseverance.
Many of you have recently experienced what small scale perseverance is like during your participation in the Run4Another last week. Even though I remained in the cheering section and only watched the race, I could guess by the look on your faces that the ability to keep up a steady jogging pace was not an easy task! It would have been much easier to simply remain at home that morning and relax with a nice, warm cup of coffee in hand…definitely not running through the bitter cold rain and harsh winds! Ask any movie director…the weather conditions for this past weekend's race were fit for the gloomiest scene of a dramatic film. Why then, did I see not only exhaustion on the faces of the runners, but joy as well? The answer is simple. Because, you were running for something worth the short term pain. You had successfully been fundraising for weeks prior, and now it was time to follow through with what you all had committed to do: RUN THE RACE. You ran on behalf of the One4Another children…so that one day, they could run and play again too.
Now, I want you to take this learning experience about perseverance and apply it on a larger scale to the children whom you were running for. During the five and a half months that I was serving in Uganda, I learned many thin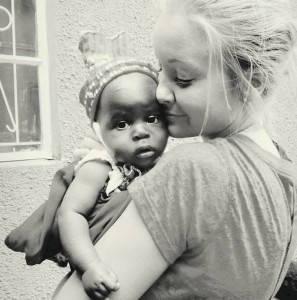 gs, some of which I have wrote about in previous blog posts. But, one of the greatest lessons that working with the One4Another kids has taught me, is perseverance. Each of the children displayed substantial amounts of perseverance and strength. For children living in the village, even the foreign experience of being brought to a medical clinic in town can be frightening, and the recovery process after a surgery is often very long and painful. I recall many days when one of our children would have to undergo a cast change or sit through post-surgical care from one of our surgeons….screaming "Please! The pain is too much!" At moments like these, all there is to do is cry with her; comfort him. It is difficult for the child to see what is to come, to grasp the timeline of the surgical procedures and their ultimate healing. But, throughout their recovery process, they began to gain more and more hope as they increased in physical strength. This could take weeks to months, to even a full year… but all the while the child stayed positive about what is to come.
I found it fitting, that the runners were unable to see the finish line until they emerged out of the forested area at the end of the track. This is a perfect metaphor of the cognitive awareness of the O4A children during their healing processes. Most often, it is unclear when or how long it will take before a child is fully recovered, and we can't often see a clear finish line until the child reaches the very end of his or her recovery stage. Some of the runners, even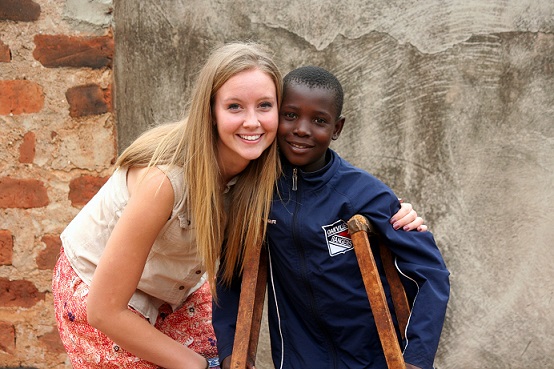 became confused at the end of their first lap. Which way should I turn? How long is this going to take? Do I remain in the same lane for my second lap? The O4A children and their families are often caught in that puzzled position as well. How long is this recovery process? Why might we have to do a second surgery? It can be complicated at times. Often, it is hard to tell which direction to push forward. But, this doesn't stop the children, families and the nurses from staying positive. It doesn't hinder the perseverance of the children. They continue to press on towards the goal of full recovery.
It has been an honour to be the 2015-2016 intern for One4Antoher International. I have learned and experienced things that I never imagined I would when I first stepped onto the rusty-red Ugandan soil. I am so thankful to all of you, who have read these blogs and have followed O4A via social media. I hope that God will lead me be back to Jinja in the near future….I have met so many amazing people and fell in love with the country. A piece of my heart still remains in Uganda, so I know I will have to follow it back to Jinja someday soon! Please continue to keep all of the O4A children, nurses and staff in your prayers. The children are such a blessing to be around; to have a relationship with. I wish all of you could meet the kids face to face….but I know that is not possible for everyone. I truly hope that you have enjoyed meeting them over the internet this past 6 months! Persevere in the good work that you have already done!